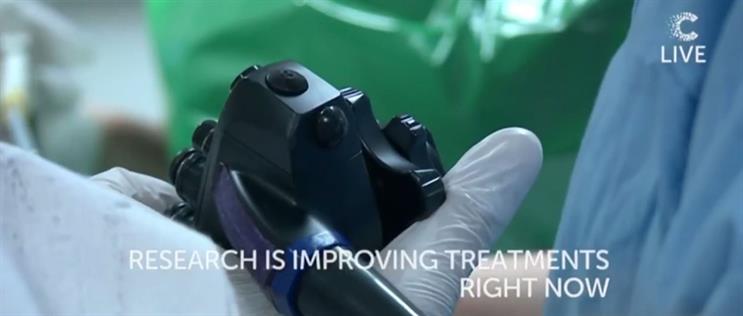 Winner
Live from Inside the Human Body
Cancer Research UK, MediaCom and Anomaly
---
The 90-second ad – "Live from inside the human body", featured a live colonoscopy and was shown on Channel 4 and Facebook Live. The ad overcame several challenges, including the live format, filming the procedure and broadcasting it from Cardiff and Vale University Hospital. The footage showed a doctor removing polyps from a patient, explaining the operation to viewers as it happened.
To drive awareness further, 10-second teasers were broadcast the week before the live event across some of Channel 4's biggest shows, including 24 Hours in A&E. The live ad ran seamlessly, and was made available across Channel 4's social-media accounts.
The campaign results were impressive, with the ad reaching 30 million people, more than the half the adult population, through PR. A total of two million people watched the live ad on Channel 4 and Facebook Live, while CRUK's website saw a 30% increase in visits to its fundraising pages; there was also a 30% increase in downloads of its bowel cancer information pack.
Media director: Tracy Jeffrey
Senior planner/strategist: Tom Planer/Elena Redden