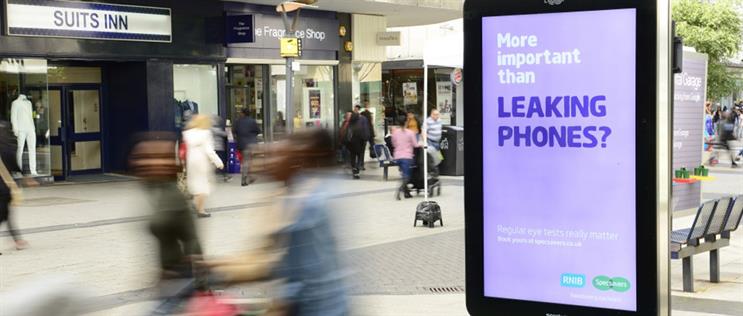 Winner
More Important Than…
Specsavers, Manning Gottlieb OMD and Specsavers Creative Team
---
While people realise that eye health is important, very few see it as an immediate problem. Specsavers wanted to change this perception, encouraging people to see just how important eye tests are. It put eye health front of mind in real-time, into what people found most important in any given moment – namely, what they were consuming through media.
The creative approach was "More important than..." – enabling Specsavers to provide a witty juxtaposition between the importance of eye health and the triviality of most media content.
An operations room connected to live news sources and reams of social data to spot trends and react to what was going on throughout the day was established. These trends and news items were identified by Specsavers and then turned into creative by the brand's in-house team, which was then placed in relevant media. Digital outdoor sites across the country displayed arresting messages of what was trending that day, while newspaper ads included wry comments on the key trivial issues.
Over the course of its two weeks, more than 100 different executions resulted in ad awareness for the campaign being 16% greater than the previous eye-health campaign, and 15,000 more eyes were tested during the campaign versus the previous year. New customers accounted for 18% of sight tests during the campaign period.
Media partners: Grand Visual, Talon, Channel 4, ITV, Sky
Tech partner: Never.No
SHORTLIST

Covonia – A Bullish Media Campaign


Bray Leino

Brand: Covonia
Media agency: Bray Leino

MediaCom

Client company: Bayer
Brand: Canesten
Media agency: MediaCom
Media director: Paul Kershaw
Senior planner/strategist: Kelsey O'Neal
Creative agency: J. Walter Thompson


MediaCom

Client company: Glaxo Smith Kline
Brand: Voltarol
Media agency: MediaCom
Media director: Jonathan Robson
Senior planner/strategist: Amy Roebuck

PHD

Client company: Clorox
Brand: Burt's Bees
Media agency: PHD
Media directors: Chris Magniac and Becci Dive
Senior planner/strategist: Emmeline Raab
Creative agency: Fuse, Drum
Media/brand manager: Margaret McHugh and Nidhi Bhola

Wavemaker

Client company: Colgate Palmolive
Brand: Colgate Smiles
Media agency: Wavemaker
Creative agency: Red Fuse