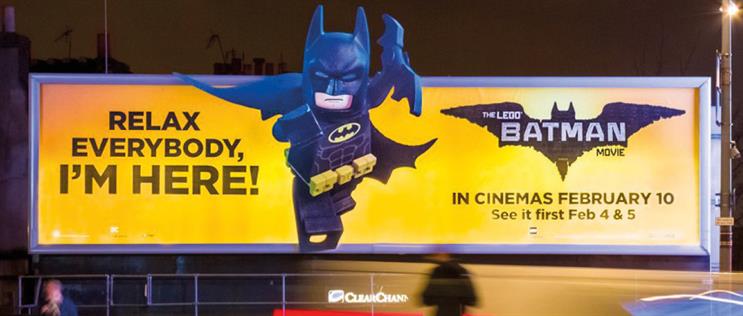 Winner
Batman Barges In
Warner Bros. UK and PHD
---
The Lego Batman Movie, released in February 2017, faced stiff competition from Fifty Shades Darker, which threatened to tear into its target audience of both mothers and the 16-34 audience that account for 44% of all UK cinema takings. Lego Batman had to widen his appeal beyond the family audience, so the 'Batman Barges In' campaign featured the animated superhero hijacking well-known media environments, offering his take and expert comment.
On Channel 4 for example, Lego Batman hijacked the channel's continuity announcements with 18 specially written and animated show introductions, while in Metro, the character took over a different regular editorial feature every day. These included Lego Batman writing a fashion feature on how stylish capes are, penning a movie review, and including himself in 'Rush Hour Crush'. Across media where Lego Batman couldn't 'barge in', such as OOH, he 'barged out' – appearing larger than life and extending beyond the edges of the format.
At launch, The Lego Batman Movie had 90% awareness, opening at number one at the UK box office – beating Fifty Shades Darker. The movie's opening weekend box office outperformed its target by 6% and the strategy of targeting young adults, in addition to children and families, paid off, delivering 18% more 16-34s than the genre average for an animated comedy.
Media directors: Jessica Roper and Charlotte Ullah
Senior planner/strategist: Susie Milburn
Media/brand manager: Martin Gough
Highly Commended
Channel 4 changed the nation's attitudes to disability for the better with its coverage of the 2016 Rio Paralympics. Its campaign pushed media partnerships to the limit, spanning new media formats and using technological innovation to enabled disabled audiences to access some channels for the first time. These included dedicated signed cinema screenings of a three-minute film, audio-enabled posters and a revolutionary use of AI on Facebook for the partially sighted. As a result, half the UK population tuned in to the Games.
Campaign: Channel 4 Paralympics
Brand/advertiser: Channel 4
Media agency: OMD UK
Media director: David Josephs
Senior planner/strategist: Clare Elder
Creative agency: 4Creative
Media/brand manager: Grace Ayes
SHORTLIST




Initiative

Client company: Amazon
Brand: Echo
Media agency: Initiative
Media director: Simon Smith
Senior planner/strategist: Caroline Manning
Creative agency: D1
Media/brand manager:
Rory Behrman

The Economist:
REAL news, REAL trust, REAL time



UM

Client company: The Economist
Brand: The Economist
Media agency: UM, Reprise, Rapport
Media director: Neil Peace
Senior planner/strategist: Simone Johnson
Creative agency: Proximity London
Media/brand manager: Will Reddihough

Facebook and Studiocanal
Team Up for a Delightful
Campaign that Spreads Joy and Marmalade

Facebook

Client company: Studiocanal
Brand: Paddington 2
Media agency: Target Media
Media director: Tom Parry
Senior planner/strategist:
Tamar Ayres
Creative agency: Empire Design
Media/brand manager:
Jamie McHale, head of digital, Studiocanal

Ed Sheeran - Breaking the charts...

the7stars

Client company: Atlantic Records
Brand: Ed Sheeran
Media agency: the7stars
Media director: Catie Dear