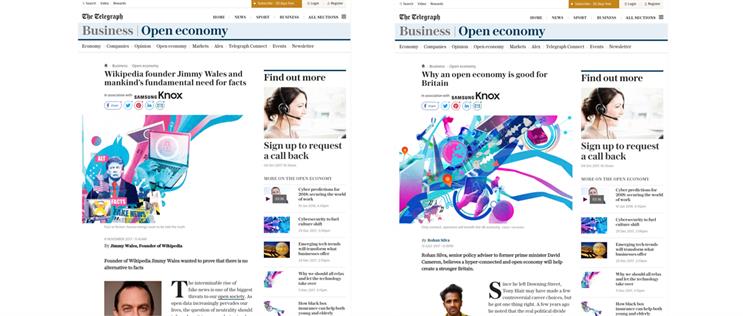 Winner
Samsung – The Telegraph
Samsung Knox and and Starcom
---
Samsung Knox created a bespoke hub within Telegraph Business' masthead, alongside two dedicated pages in the daily and Saturday papers, to hit the story from all angles. Content created include a documentary video on dawgyg, one of the most prolific hackers in the US, filmed on site in Virginia in the US. It featured the real victims of cyber attacks, showing that the real threat might not always be what one expects.
The target audience – C-level executives – had access to a series of premium tech insights and in-depth, interactive, longform articles, addressing the real threats and opportunities businesses face in Samsung Knox's key target industries, including healthcare, finance and education.
A new opinion page was also created in the Saturday Telegraph, where columnists including Jimmy Wales, Rohan Silva and Mo Gawdat debated the risks, rewards and meaning of data and tech-driven lives. At the midwave, 40% of recallers visited Samsung Knox's website and 34% enquired about the product. Trust went up nearly 20% and brand consideration for Samsung Knox increased by 20%.
Media director: Emma Elford (The Telegraph)
Senior planner/strategist: Lindsey Webb
Media/brand manager: Richard Skinner
SHORTLIST

MediaCom

Client company: British Sky Broadcasting
Brand: Now TV
Media agency: MediaCom
Media director: Christopher Beckman
Senior planner/strategist: Peter Skarparis