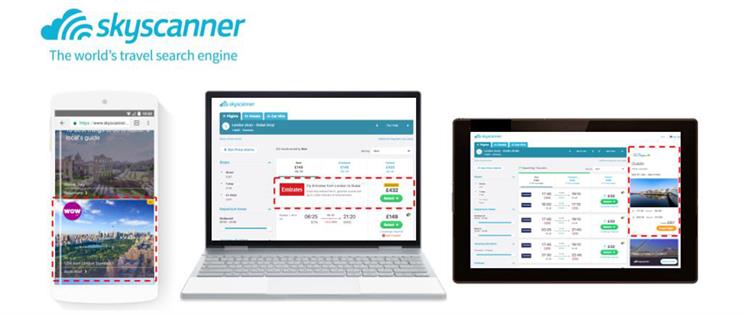 Winner
Skyscanner Dynamic Native Solutions
Skyscanner
---
Travel search engine Skyscanner wanted to overhaul its on-site media offering, which focused on promoting brand messages to its users through display creatives, rather than prompting users to book. To counter this, Skyscanner used native advertising to develop highly relevant messages, provide world-class products to its partners and increase advertising revenue. Skyscanner worked closely with its product team in the planning stage and held focus groups during the development stage.
Three new products were built, each with a separate, yet complementary, purpose. 'Flights Inline' was created for contextual performance, while 'Dynamic Multi-layout' was used for audience awareness, whereby an internal feed was used to automatically serve an engaging image of the searched destination within the format. 'Discovery Tile', meanwhile, was used for homepage branding.
Built in collaboration with Google on the DoubleClick for Publishers native framework, all formats seamlessly worked cross-screen and platform, created with automation and scalability in mind. Other features included a unique live pricing component, which provided users with a bookable price for the dates and destination being searched for.
As a result, Skyscanner says it has observed click rates seven times higher and yield rates six times higher than standard display.
SHORTLIST

Hawk: Innovation in eCommerce

Future

Global's DAX 2nd Party Data Partnerships - DAX and Co

Global, The Media & Entertainment Group

InLink - Revolutionising public connectivity

Primesight

Brand: Inlink by BT
Media Agency: Primesight

Hotel Everywhere by Thomas Cook

Thomas Cook Media & Partnerships


Teads

Client company: PVH
Brand: Tommy Hilfiger
Media agency: Teads
Media/brand manager: Marije Konneman

New World Payphones - Clear Channel UK

Clear Channel UK

Brand: New World Payphones
Media Agency: Clear Channel UK