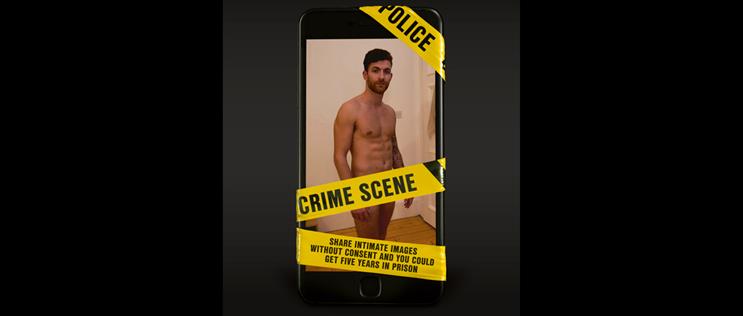 Winner
NCSII campaign/Safer Scotland
The Scottish Government, Republic of Media and The Leith Agency
---
The non-consensual sharing of intimate images (NCSII), also known as 'revenge porn', whereby private images have been used to intimidate or humiliate people, can have a devastating effect on lives. The Scottish Government wanted to ensure the public understood that this was a crime, with serious consequences for perpetrators as well as victims.
The target audience was those aged between 18 and 40; however, government-branded messages to this group were proving unengaging.
With 25% of the target audience likely to click on ads with a sexual reference, a twofold campaign – "The Sting" and "The Lesson" – was developed.
"The Sting" used social and display media to entice potential offenders to click by giving the impression they were about to see some juicy content. For example, scratch ads encouraged people to scratch to reveal a naked image – but instead they saw the campaign message and a clear threat of prison.
Scottish Government branding was never used and where branding was mandatory, the campaign acronym NCSII was displayed.
"The Lesson", using other media such as OOH and press, increased awareness and educated audiences on the psychological impact for the victim and the criminal consequences for the perpetrator.
The campaign resulted in an increased awareness that NCSII is a crime, while 22% of 18- to 40-year-olds took some form of action following the campaign.
Media director: Simon Crunden
Senior planner/strategist: Gill Jarvie
Media/brand manager: Martin Wilson
SHORTLIST

Active10

Wavemaker

Brand/advertiser: Public Health England
Media Agency: Wavemaker

Mindshare

Brand/advertiser: Tommy's
Media agency: Mindshare UK
Media director: Lavinia Weir
Senior planner/strategist: Lavinia Weir

MG OMD and Age UK - The Loneliness Index

Manning Gottlieb OMD

Brand/advertiser: Age UK
Media agency: Manning Gottlieb OMD
Creative agency: Drum

Live from Inside the Human Body

MediaCom

Brand/advertiser: Cancer Research UK
Media agency: MediaCom
Media director: Tracy Jeffrey
Senior planner/strategist:
Tom Planer/Elena Redden
Creative agency: Anomaly

Giving Movember it's Mojo Back

Bountiful Cow

Brand/advertiser: The Mojo Foundation
Media agency: Bountiful Cow