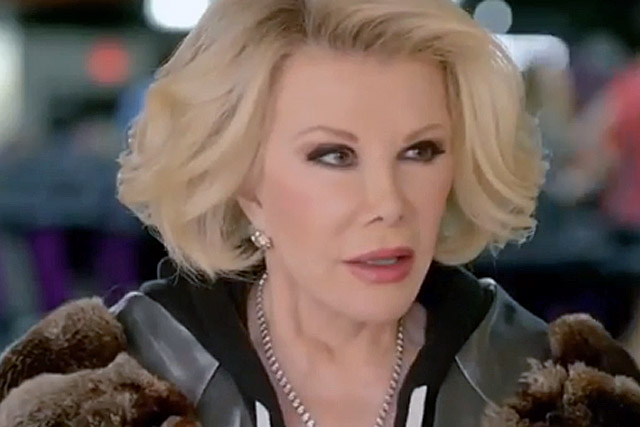 Rivers was best known for her razor-sharp wit and her self-depreciating humour, after coming to prominence in the 1960s through her controversial and brazen stand-up routines.
She started out as a copywriter and then turned to comedy and reached international stardom following years of touring and launching a career as a TV presenter.
A female comedy pioneer, Rivers was still working on TV up until her death, presenting Fashion Police on US channel E!, where she critiqued fashion outfits on the red carpet, alongside co-hosts Kelly Osbourne and Giuliana Rancic.
Campaign looks back at some Rivers' comical ads, showcasing her humour.

Dodge by
Wieden & Kennedy -

2013
CVS Pharmacy by Arnold Worldwide - 2013
SK Energy by Pure Growth Partners - 2012
GoDaddy.co by Deutsch New York - 2011
Faygo Diet - 1980
MCI - 1980