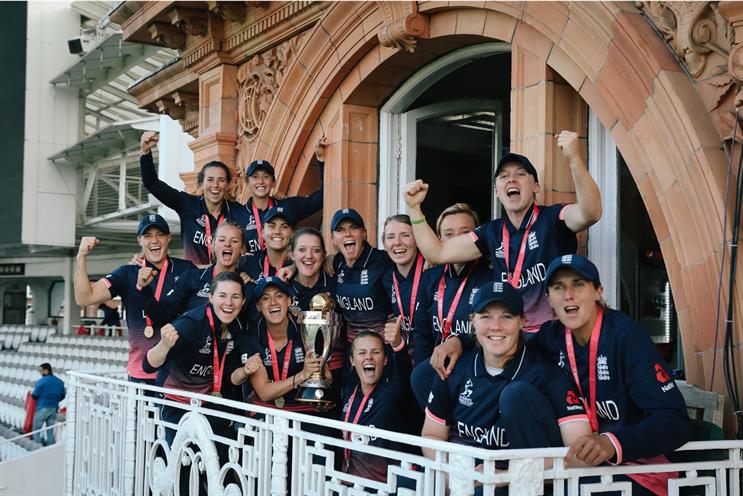 'Go Boldly' by Threepipe for the England and Wales Cricket Board
The England and Wales Cricket Board (ECB) wanted to use the 2017 Women's World Cup on home soil to raise the profile of the England women's cricket team among sports fans, especially parents of children under 15 years old.
Threepipe's 'Go Boldly' campaign was fully integrated across media, PR, digital product, social media and content, with the flexibility to adapt throughout the tournament.
The aim of the campaign was to position the England team as inspirational yet accessible role models, with the chance of achieving something special in a major tournament.
The centrepiece of the brand content was a 30-second brand film, portraying the team as dynamic and vibrant. Threepipe also created over 100 supported content assets for use across all digital and social channels and used content capture platform Seen It to enable the players to share their experience of competing in a World Cup.
There was also a series of videos of the England team's parents being interviewed about their daughters, not knowing their daughters were watching backstage – these emotional videos were released in the build-up to Father's Day.
The main media buy was cinema advertising around the movie Wonder Woman. The theme was well-matched and the timing was perfect, with the opening weekend of the film three weeks before England began their World Cup matches. The campaign also celebrated England's eventual victory via digital outdoor across 144 sites nationally, within an hour after the final.
The Go Boldly campaign catapulted awareness of the women's team and provided an important platform for bringing more families into cricket. There was 60% prompted recall of the campaign among cricket-interested parents with children under 15, compared to 47% overall. The ECB website had an incredible 833% increase in searches related to women's cricket compared to the previous year. The campaign achieved 47.4 million impressions across paid and social media.