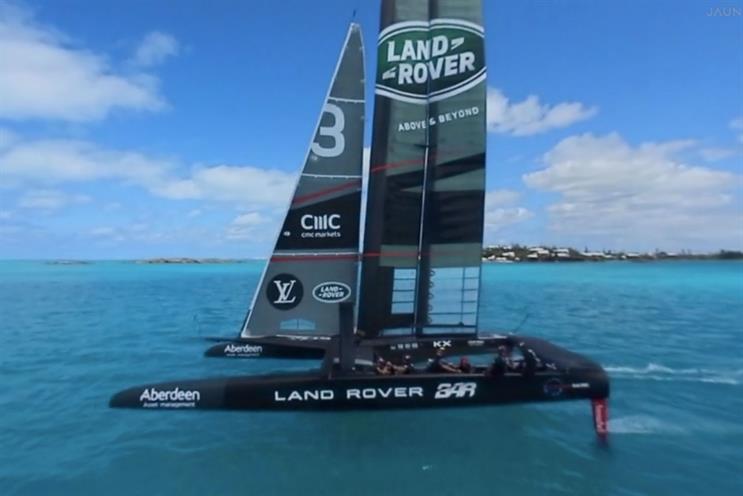 'Land Rover: Above and Beyond' by WING and Jaunt for Land Rover
In May 2017, Land Rover BAR released a cutting-edge virtual-reality film ahead of the America's Cup Qualifiers to bring its customers and fans closer to the action.
Creative content agency WING wrote and co-produced the VR film with their immersive partner Jaunt used its VR technology to give users a first-hand experience of the Land Rover BAR team – jumping on board for an exhilarating sail around Bermuda's Great Sound, during final preparations for the team's first America's Cup challenge.
The world's most experienced sailing video production team travelled to Bermuda with an array of cameras, from the world's most expensive VR camera to the world's first commercial underwater 360 camera. The team deployed drones, buoys, helmet mounts, chest mounts, custom car rigs and seven raceboat-mounted VR cameras to catch every angle on shore, on sea and in the air.
Sound plays an equally important role in transporting the viewer into the action. Ambisonic microphones were fitted onto the sailors, including Great Britain Olypmic sailing hero Sir Ben Ainslie, to capture every commanding call to action, and a mast microphone recorded the unique 'whine' of the wind.
The campaign was activated at six events around the world, with 8,240 participants, as well as on the Land Rover social channels. It achieved 6.7m total video views and 12.9k visits to the Land Rover DX site through the BAR 360 content.
Our judges said: "This is putting VR to the test. It allows followers to experience an amazing adrenaline-rush sport, which wouldn't have been possible before."