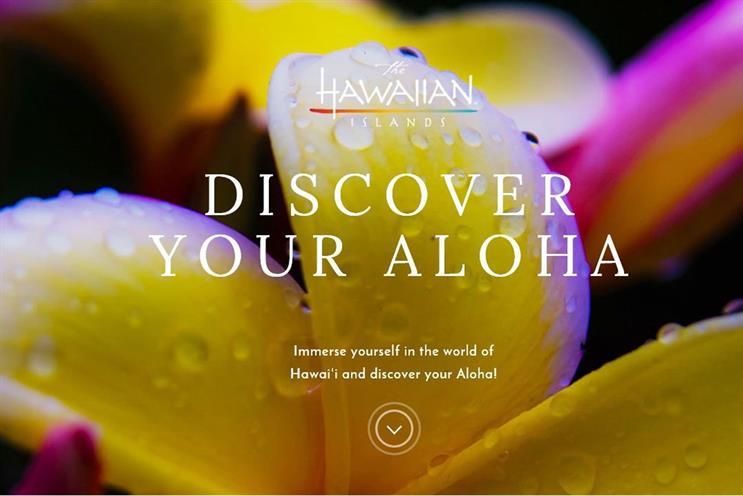 'Discover Your Aloha' by Expedia Media Solutions for The Hawaii Tourism Authority
Although Hawaii's tourism industry has broken records in recent years for visitor numbers, the Hawaii Tourism Authority (HTA) wanted to use fresh tactics to stay competitive in the global travel market. They also wanted to target a younger audience with a strong appetite for travel, creating a direct connection via various online tactics.
Expedia Media Solutions developed an innovative digital marketing campaign, using facial recognition technology to appeal to online viewers in a unique way. 'Discover Your Aloha' was brought to life with an eye-catching microsite, featuring drone footage of Hawaii's land, sea and sky, hosted by three animal guides: 'Iwa (bird), Hawaii's all-knowing guide; He'e (octopus), Hawaii's loving spirit; and Pua'a (pig), Hawaii's bold adventurer.
If users gave access to their web camera when they landed on the microsight, they opted in to the custom-built facial recognition software experience. As the video played, the software analysed users' physical reactions to the content and identified which footage invoked the most positive reaction.
After the video, the facial recognition algorithm established the personal preferences of each viewer and produced a customised travel recommendation aligned with one of the three animal guides. Users could then book a personalised Hawaii holiday package and receive a discount.
The campaign ran for nine months across five countries and five major travel websites. There were also display ads and social content featuring the animal guides. The interactive microsite received nearly a million total views and the bounce rate was less than 1%. Visitors were highly engaged, spending an average of nearly two minutes interacting with the content. There was a nearly 20% increase year-on-year in passenger demand across Expedia sites and the campaign produced a remarkable 115-to-1 return on ad spend.
EMS HTA_1Min_Video from Ashley Goncena on Vimeo.