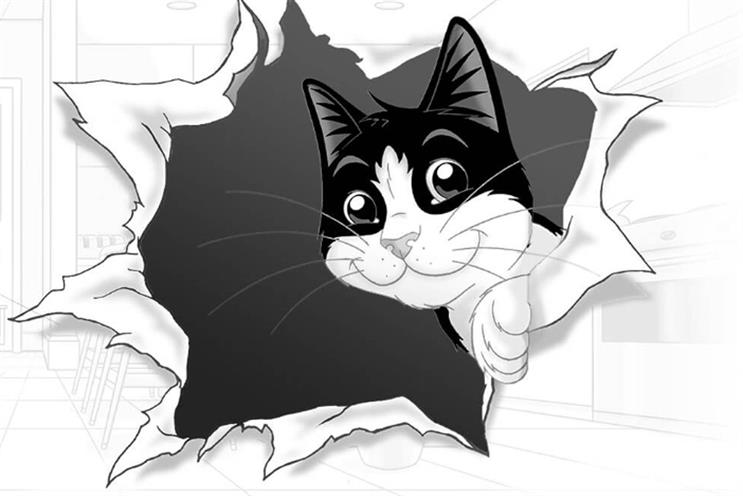 'Felix Up To Mischief' by AFG Europe/Momentum Worldwide for Felix/Nestlé Purina
Felix is the UK's best-selling pet food brand and is twice the size of its biggest rival Whiskas in value sales. But when it comes to perception, retailers and consumers believe Whiskas is more popular and Felix is second to Whiskas on brand-equity measures such as "a brand I love". These measures drive brand consideration and sales.
The brand has a recognisable icon, Felix the cat, but it wasn't capitalising on Felix's personality. So AFG Euope and Momentum Worldwide's idea was to make Felix 'come alive' so that cat lovers could witness his mischievous tricks in the real world. The result was the #uptomischief campaign, launched on Waterloo Station's digital 40-metre motion screen.
For two days, Felix had a dominant media buy-out of the motion screen, plus a specially built black-and-white stand on the concourse. A 3D augmented reality Felix the cat was seen on the screen to be walking around the stand and the station, 'interacting' with commuters and families. Using the latest digital technology, Felix could react in real time, uniquely, to each individual, meaning no interaction was ever the same.
With over 600,000 people passing through Waterloo in those two days, not only did the experience create personalised Felix content for users to share via hashtag, but it also enabled the team to film it and create online content for social channels. Online, there was a 18.7% engagement rate and 95% of the comments were positive.
The Waterloo launch and subsequent Facebook campaign, featuring content from the activation, created a 7% increase in brand consideration.
Our judges said: "This was a fantastic campaign execution, capturing a story that cat owners can relate to, bringing an emotional connection to the brand."