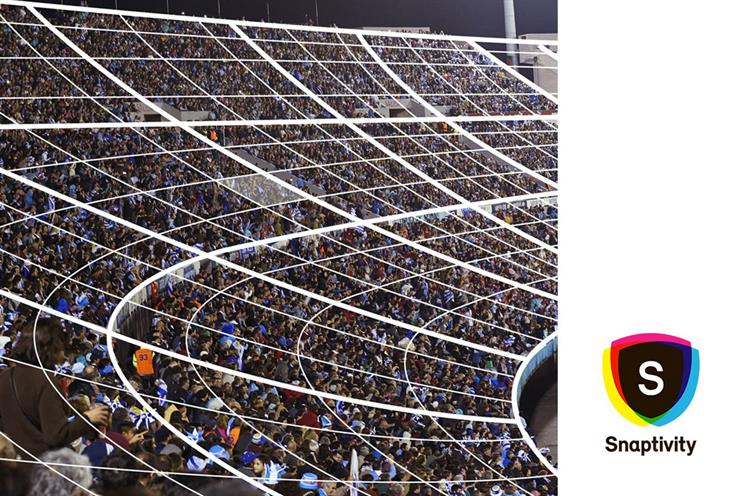 'Capturing fan emotions at live events' by Snaptivity/R/GA
In sports stadiums around the world, including Wembley Stadium, Stamford Bridge and the Molineux Stadium, Snaptivity (a start-up from R/GA's IoT Venture Studio UK) is transforming the way teams and sponsors connect with fans.
Collecting numerous data points from sensors set up throughout a stadium, AI predicts when and where the next big audience reaction will happen. This triggers robotic cameras, which then capture thousands of candid individual fan reactions, mid-game.
These moments are sent straight to fans, using API and a unique stadium mapping tool. Snaptivity matches every photo to an individual seat number – and adds creative content from teams or sponsors.
For sports fans, nothing beats watching a game from inside a stadium but capturing that excitement on individual phones is difficult, and often ruins the moment. Additionally, as the stadium experience has become more immersive, fans have developed 'banner blindness' – traditional sponsorship is less effective.
Snaptivity created a memorable way for teams and sponsors to be part of fans' live sport consumption while keeping them glued to the pitch, not their smartphones. And a smart user experience drives social sharing in fan communities.
Fifteen photos are captured for every fan in the stadium during a match. As more than 40% of fans in a stadium are sharing every third photo Snaptivity take, they reach 1.2m people each game. They're using data, IoT hardware and APIs together in a fresh, innovative way.
Our judges said: "This is an interesting piece of technology… it creates frictionless engagement that's really adding value to the fan experience."