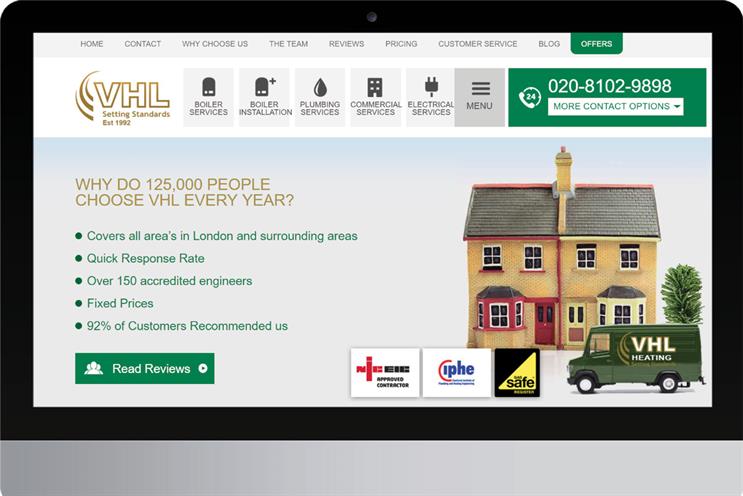 'Van-based marketing' by Merkle I Periscopix for Village Heating
Village Heating Limited (VHL) is a medium-sized heating, electrical and plumbing company operating across Greater London. But the sheer scale of this area, coupled with the random nature of call-outs, presented significant logistical difficulties.
Google AdWords contributed to business enquiries, but with targeting focused simply on 'London', engineers were criss-crossing the city every day as they navigated between jobs. Three hours out of an eight-hour day were being spent in traffic, so VHL could only charge customers on average five hours a day.
Merkle I Periscopix were brought in to help the company work more efficiently. Their first thought was: what if we could identify where vans were on an hourly basis and link that to Google AdWords?
The agency employed dynamic, local media targeting to help VHL control the geographic location of its incoming leads. They devised a novel media strategy, namely 'real-time, van-based geofencing' (which meant defining a tight radius around the live location of every engineer's van). This would reduce driving time, leading to more billable hours a day, more jobs a day, reduced fuel costs and an increase in revenue.
Technology was key. VHL already employed Teletrac, a GPS tracking system, in their vans. By writing an advanced AdWords script to interact with this API, the team were able to pull each van's latitude and longitude twice an hour.
Meanwhile, they deployed several test campaigns designed to target only the area around each van. So when people searched on Google for keywords such as "emergency plumber" and "fast boiler service", they were sent copy that VHL would respond to them and were in the local area.
Since employing this strategy, travel time per engineer has reduced by two hours a day. This has resulted in engineers being able to take on an extra two jobs a day. The ability to rapidly respond to new bookings increased new customer acquisition by 15% – that's 315 more customers a month. Fuel costs have also decreased by 18% a month. The strategy has been a great success and fundamentally changed the way VHL operate.