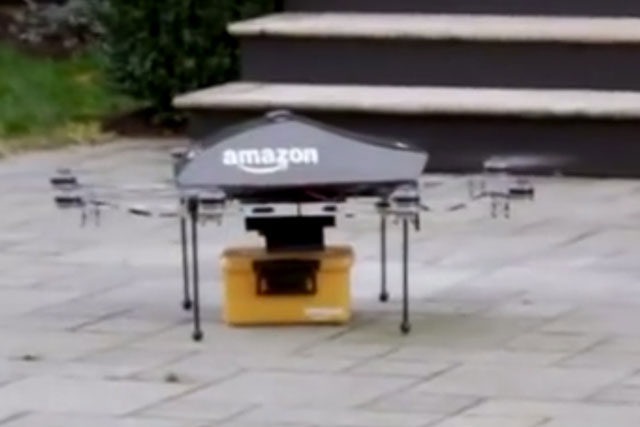 The video was shared just shy of 250,000 times this week and knocks Volvo Trucks from first place.
The ad shows the process of delivery, from the customer selecting "30-minute delivery", right through the Amazon warehouse, to a small aircraft landing in the customer's garden. It was created in-house.
Nike and Wieden & Kennedy have had a successful week with two ads for the sports brand appearing in the top-ten most-shared listing.
The ads, taking seventh and ninth places, are centred on the Brazilian World Cup and Russian Winter Olympics respectively, and have a combined share total of more than 100,000.
Wieden & Kennedy continue their success this week as the only agency with three ads in the most-shared list. Three's dancing pony returns with some festive additions to the original ad and 55,434 shares this week, in eighth position.
John Lewis's "the bear and the hare" Christmas ad is in tenth position this week, in its fourth week as part of the most-shared ads. Created by Adam & Eve/DDB, the ad generated 53,152 shares this week.
The chart, collated and ranked by Unruly, ranks ads on YouTube by the number of shares across Facebook, Twitter and the blogosphere. Ads older than 30 days are not included.
1. Amazon "prime air" created in-house
247,136 shares this week
All time: 349,375 shares
2. Volvo Trucks "the epic split" by Forsman & Bodenfors
110,595 shares this week
All time: 2,792,775 shares
3. Kmart "show your joe" by Draftfcb
99,081 shares this week
All time: 1,486,613 shares
4. Unilever "por que trazer uma criança a este mundo?" by DAVID Buenos Aires/Ogilvy & Mather London
96,601 shares this week
All time: 287,873 shares
5. CHANEL "Marilyn and No 5" created in-house
93,685 shares this week
All time: 199,045 shares
6. Universal Pictures "a maldição de chucky" created in-house
80,273 shares this week
All time: 881,710 shares
7. Nike "dare to be Brasilian" by Wieden & Kennedy
68,092 shares this week
All time: 78,563 shares
8. Three "the pony at christmas" by Wieden & Kennedy
55,434 shares this week
All time: 56,984 shares
9. Nike "play Russian" by Wieden & Kennedy Amsterdam
54,326 shares this week
All time: 64,935 shares
10. John Lewis "the bear & the hare" by Adam&Eve/DDB
53,152 shares this week
All time: 930,152 shares
AUTOFEEDCAMVIRAL