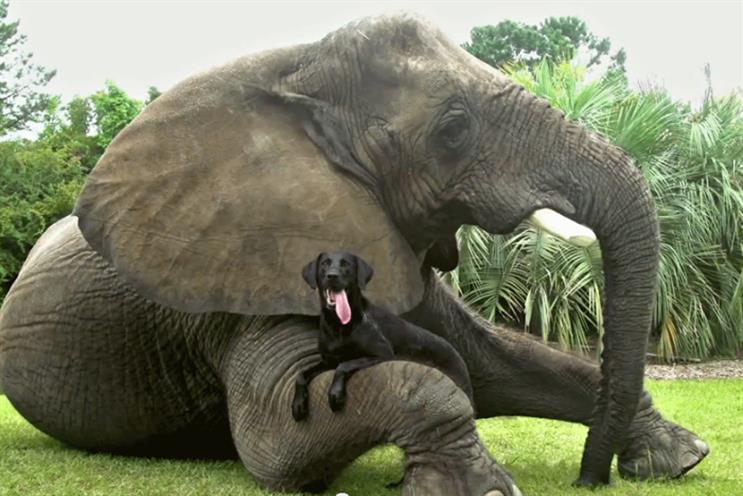 1. Android "friends forever" by Droga5
The ad features different animals playing together, such as a money and a horse, a dog and a whale, and a sheep and an elephant. It ends with the line, "Be together. Not the same." The spot has been shared 348,288 times.
2. Metlife "my dad's story" by BBDO Hong Kong
The heartfelt three-minute spot for the Metlife insurance company tells the story of a child who enjoys her time with her father but writes him a letter saying that she knows he is lying when he says "he has a job, money, is not tired or hungry".
The tagline is, "A child's future is worth every sacrifice." It has been shared 212,343 times over the past seven days.
3. Supercell "Clash of Clans: Revenge" by Barton F. Graf 9000
Slipping one place from the second spot last week, the ad shows Liam Neeson talking to a games console and threatening his competitor, when a man shouts "Li-am, I have a scone for Li-am". The camera pans out to show Neeson in a coffee shop.
It has been shared 67,482 times this week, compared with 772,697 shares last week.
4. Boston Dynamics "introducing spot" by Boston Dynamics
The video shows how the robot can adapt to different terrains and can even withstand being kicked. It has been shared 53,545 times.
5. Budweiser "lost dog" by Anomaly
The Super Bowl ad features in the top ten for the third consecutive week. A lost puppy looking for his way home encounters a hungry wolf, but when his barks are heard by his horse friends they come to his rescue. It has been shared 37,210 times this week.
6. Rag & Bone "men's fall/winter 2015 feat. Baryshnikov and Lil Buck" by Rag & Bone
Mikhail Baryshnikov and Lil Buck, are shown dancing as they model the new clothing. A lot of the action is in slow motion and repeats several moves in line with the beat of the music.
It has been shared 43,918 times.
7. Reebok "freak show" by Venables Bell & Partners
Another week in the chart for Reebok. The spot shows that people exercise not for the "bright lights or money" but to be better themselves and to be "more human". This week it has been shared 26,526 times.
8. Mountain Dew "come alive" by BBDO NY
The ad for the juice coconut water shows two men on a sofa dancing after drinking Mountain Dew. It has been shared 22,705 times.
9. Sports England "this girl can" by FCB Inferno
The ad returns to the chart. The spot shows ordinary women taking part in sport to the soundtrack of Get Ur Freak On by Missy Elliott. It has been shared 21,432 times.
10. Porsche "rebels, race on" by Cramer-Krasselt
The ad for the new Cayman GT4 shows people staying away from the car and giving viewers just glimpses of it.
At the end the ubiquitous long winding road appears as the car rushes past the camera. The tagline is, "Rebels race on." It has been shared 20,647 times.