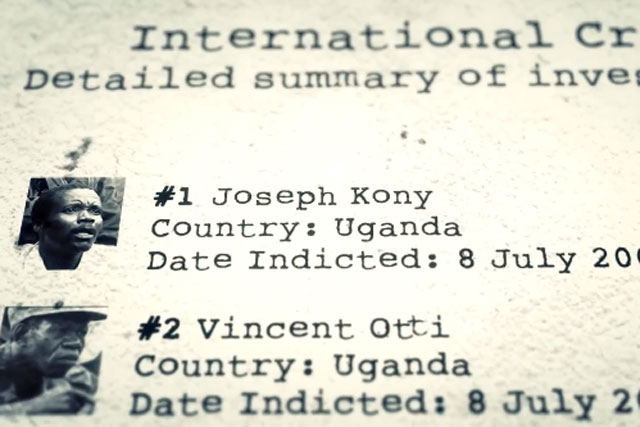 'Kony 2012', funded by a campaign group called Invisible Children and directed by co-founder Jason Russell, set the social web alight last week when its was shared five millions times in a matter of days.
The 30-minute film is intended to raise public awareness of the crimes of Ugandan warlord Joseph Kony and secure his arrest.
Still outperforming any previous video in the viral chart, Invisible Children has faced criticisms over its finances, prompting a second, eight-minute video featuring its CEO, which has not make it into the chart.
'Kony 2012' has so far been watched more than 79 million times.
Last week's viral ad for Mercedes has retained second spot this week with 68,991 shares across the social web, but Cartier's "l'oyssee de Cartier" has fallen into fifth place with just 27,359 – less than half its shares last week.
As St Patrick's day approaches, Guinness's "round up your mates" has risen through the chart into fourth place with an uplift of almost 20,000 shares from last week.
The Guardian's "three little pigs" was shared 6,169 times in its third week in the chart, sloping to tenth position.
The chart, produced in conjunction with Unruly, ranks ads according to the number of times they have been shared on Facebook, Twitter and the blogosphere.
Ads launched more than 30-days ago are not included.
Due to technical issues with Twitter's API, shares from the social network were not included in the count.
1. Invisible Children Inc 'Kony 2012' created in-house
2,901,846 shares this week
All time: 8,080,037 shares

2. Mercedes 'invisible' by Jung Von Matt
68,991 shares this week
All time: 190,021 shares

3. Rovio Entertainment 'Angry Birds Nasa announcement' created in-house
37,788 shares this week
All time: 44,649 shares

4. Guinness 'round up your mates' by AMV BBDO
32,566 shares this week
All time: 56,423 shares

5. Cartier 'l'odyssee de Cartier' by Marcel, Paris
27,359 shares this week
All time: 84,779

6. Playstation 'Cubs win' by Deutsch, LA
18,051 shares this week
All time: 48,475 shares

7. Hahn 'spill-proof beer' by Publicis Mojo, Sydney
9,658 shares this week
All time: 12,658 shares

8. Armani 'Rihanna'
9,023 shares this week
All time: 10,176 shares

9. Converse 'do ya thing' by HSI, London
7,750 shares this week
All time: 94,374 shares

10. Guardian 'three little pigs' by BBH London
6,169 shares this week
All time: 44,742 shares