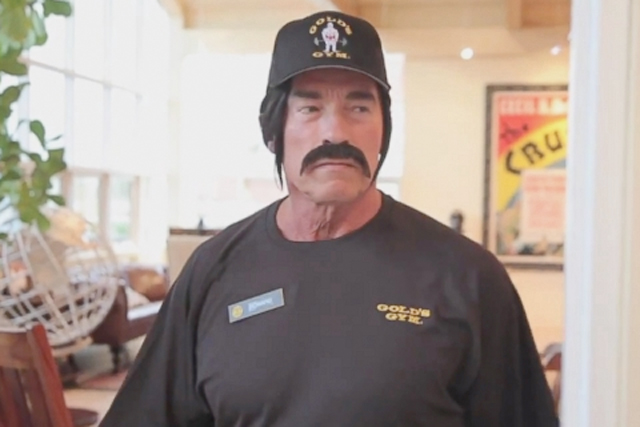 The ad for Omaze, an organisation that allows people to bid to win experiences in support of causes and charities, features Schwarzenegger interacting with a number of gym goers while wearing a false moustache and wig.
In the ad, shared 264,733 times this week, Schwarzenegger poses as personal trainer and regional manager of a Gold's Gym in Venice, California to raise money for after-school activities.
Following the viral success of "the epic split" starring Jean-Claude van Damme, Volvo and its agency Forsman & Bodenfors enter the chart with a new ad.
Shared 175,729 times this week, the two-minute video features shots of the footballer Zlatan Ibrahimovic diving into a frozen lake and providing an inspirational voice over in Swedish, ending with the line: "I want to live and die in Sweden".
As the UK, and the rest of the world, gears up for this week's Super Bowl, game day ads and teasers for ESPN, Volkswagen, Budweiser, Dannon and Jaguar, have also entered the chart.
The most-shared Super Bowl ad, ESPN's "long week" by Wieden & Kennedy, was shared more than 90,000 times this week.
The chart, collated by Unruly, ranks ads on YouTube by the number of shares across Facebook, Twitter and the blogosphere. Ads older than 30 days are not included.
1. Omaze "arnold works at Gold's" created in-house
264,733 shares this week
All time: 404,093 shares
2. Volvo "made by sweden" by Forsman & Bodenfors
175,729 shares this week
All time: 189,670 shares
3. ESPN "long week" by Wieden & Kennedy
90,002 shares this week
All time: 90,002 shares
4. 20th Century Fox Film "devil baby attack" by Thinkmodo NY
78,075 shares this week
All time: 1,949,468 shares
5. Apple "thirty years of innovation" by TBWA
42,740 shares this week
All time: 43,098 shares
6. Duracell "trust your power" by Saatchi & Saatchi, New York
29,248 shares this week
All time: 310,549 shares
7. Volkswagen "wings" by Venables Bell & Partners
27,749 shares this week
All time: 27,749 shares
8. Budweiser "puppy love" by Anomaly
27,636 shares this week
All time: 27,636 shares
9. Dannon "the spill" by Vinizius/Y&R
26,523 shares this week
All time: 26,523 shares
10. Jaguar "the truth" by Spark 44
22,533 shares this week
All time: 36,670 shares
AUTOFEEDCAMVIRAL