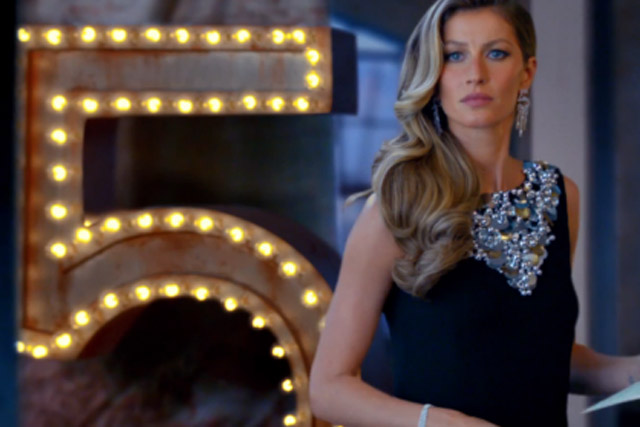 The ad has been shared nearly 350,000 times online in the past seven days. The cinematic ad somewhat emulates Luhrmann's film The Great Gatsby.
It features Bündchen surfing, before heading inside her Hampton home to find her husband has left her a note, which contains the words, "the one that I want". She later reads the note while modelling, before rushing out of the studio to find her husband in a club.
The ad is set to a slow version of the song You're The One That I Want from the film Greece, performed by Lo-Fang.
A controversial ad for FCKH8.com showing young girls swearing to highlight feminism has reached number two this week, after being shared more than 268,000 times.
Meanwhile, celebrity ads are also proving popular. A Coca-Cola spot by Droga5 New York, featuring singer Taylor Swift sitting with kittens, has charted at number three after being shared more than 120,000 times, while the Haig Club ad by Adam&Eve/DDB with David Beckham makes it in at number six.
1. Chanel No 5 "the one that i want - the film" by Baz Lurhman
342,901 shares in the last 7 days
---
2. FCKH8.com "Potty-Mouthed Princesses Drop F-Bombs for Feminism" by In house
268,244 shares in the last 7 days
---
3. Coca-Cola "taylor swift kittens" by Droga5, New York
121,041 shares in the last 7 days
---
4. Red Bull "danny macaskill: the ridge" by In house
564,217 shares in the last 7 days
---
5. BBC Music "god only knows - bbc music" by Karmarama
50,539 shares in the last 7 days

---
6. Haig Club "david beckham's extended haig club" by adam&EveDDB
45,116 shares in the last 7 days

---
7. The North Face "never stop exploring' video" by Innored
27,640 shares in the last 7 days
---
8. Unicef "a vaccine for violence" by Don't Panic
26,047 shares in the last 7 days
---
9. Peugeot "new peugeot 208 gti 30th | film the legend returns" by BETC Paris
24,246 shares in the last 7 days
---
10. Google Nexus "nexus 6: space to explore" by In house
22,654 shares in the last 7 days
---
---