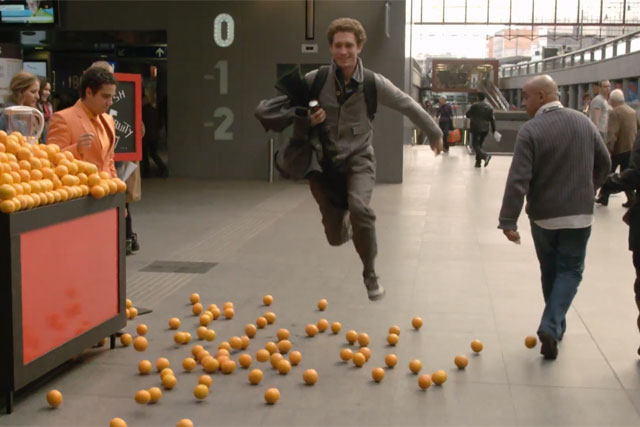 The ad, which has generated debate from YouTube users about its authenticity, has been viewed 5.3 million times and has featured in 450 blog posts since being published last week. The ad was created by Duval Guillaume Modem.
Shares of last week's top spot, Felix Baumgartner's jump from space for Red Bull, dived this week - down more than 81% from last week - making the ad the sixth most shared.
Two ads for Chanel No5, created in-house and featuring Hollywood star Brad Pitt, stayed in the chart for a second week, with combined shares of 97,378.
A hidden-camera viral ad for LG was the second most shared with 254,118 shares.
The ad, created by agency Superheroes, sees LG TV and sound equipment fools unsuspecting elevator users into thinking that the lift floor has fallen from beneath their feet.
To view the most-shared viral ads from previous weeks, visit the Brand Republic viral video board on Pinterest.
The chart, produced in conjunction with Unruly, ranks ads according to the number of times they have been shared on Facebook, Twitter and the blogosphere.
Ads launched more than 30-days ago are not included.
1. Coke Zero 'unlock the 007 in you' by Duval Guillaume Modem
696,926 shares this week
All time: 739,433 shares
2. LG 'so real it's scary' by Superheroes
254,391 shares this week
All time: 262,118 shares
3. GO Pro 'hero 3' created in-house
213,483 shares this week
All time: 740,884 shares
4. Obama/Biden 'Romnesia' by Obama for America
83,188 shares this week
All time: 112,084 shares
5. Samsung 'introducing Galaxy Note II' by Cheil
171,835 shares this week
All time: 308,464 shares
6. Red Bull 'Felix Baumgartner's supersonic freefall' created in-house
67,262 shares this week
All time: 554,243 shares
7. Infinite Games 'Bioshock infinite' created in-house
67,056 shares this week
All time: 77,681 shares
8. Chanel No5 'there you are' created in-house
59,862 shares this week
All time: 401,325 shares
9. Blendtec 'iPhone 5 vs Galaxy S3' created in-house
52,051 shares this week
All time: 121,260 shares
10. Chanel No5 'wherever I go' created in-house
37,516 shares this week
All time: 114,845 shares
Follow @brproducers