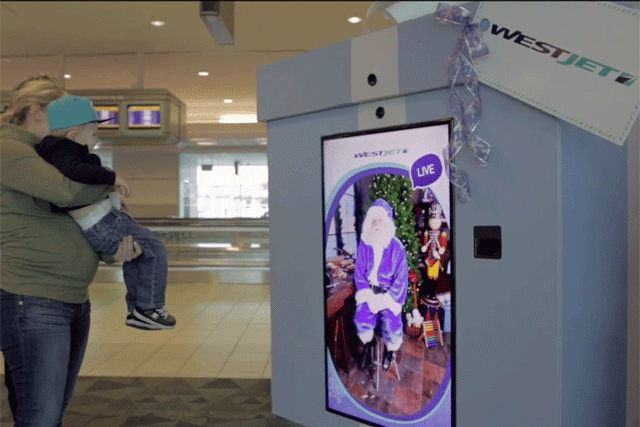 The five-minute ad, created by Studio M, shows people scanning their boarding passes on the side of a huge Christmas present.
After they have scanned their pass, the screen on the side then shows a video of WestJet's Santa, who asks the customer what they most want for Christmas. Buying teams at their destination then buy and wrap gifts in time for their arrival.
In second place, YouTube's annual review of the year, created in-house, was shared 303,316 times this week.
The video recreates popular YouTube videos from 2013, including Robin Thicke's 'Blurred Lines' and Miley Cyrus's 'Wrecking Ball' music videos.
Continuing its "Kobe vs. Messi" campaign, Turkish Airlines pitted the two sportsmen against each other in the "selfie shootout". The ad was shared 257,065 times in the last seven days.
Top of the chart for the last two weeks, Volvo Trucks "epic split" ad, featuring Jean Claude van Damme, has been shared 58,183 times this week and takes eighth place. Forsman & Bodenfors created the ad.
The chart, collated and ranked by Unruly, ranks ads on YouTube by the number of shares across Facebook, Twitter and the blogosphere. Ads older than 30 days are not included.
1. WestJet "Christmas miracle" by Studio M
833,115 shares this week
All time: 346,890 shares
2. YouTube "YouTube Rewind: what does 2013 say?" created in-house
303,316 shares this week
All time: 523,023 shares
3. Turkish Airlines "the selfie shootout" by Crispin Porter & Bogusky
257,065 shares this week
All time: 197,921 shares
4. Autoway "autoway" by BBDO J West
102,440 shares this week
All time: 1,578,459 shares
5. Kmart "show your joe" by Draftfcb
98,942 shares this week
All time: 104,523 shares
6. Pantene "#whipit #shinestrong" by BBDO Guerrero
70,329 shares this week
All time: 338,874 shares
7. Unilever "why bring a child into this world?" by DAVID Buenos Aires/Ogilvy & Mather London
59,807 shares this week
All time: 2,845,798 shares
8. Volvo Trucks "the epic split" by Forsman & Bodenfors
58,183 shares this week
All time: 86,606 shares
9. Sprint "at Sprint, everything's important" by Leo Burnett
57,309 shares this week
All time: 108,547 shares
10. Cartier "winter tale" created in-house
43,304 shares this week
All time: 109,688 shares
AUTOFEEDCAMVIRAL