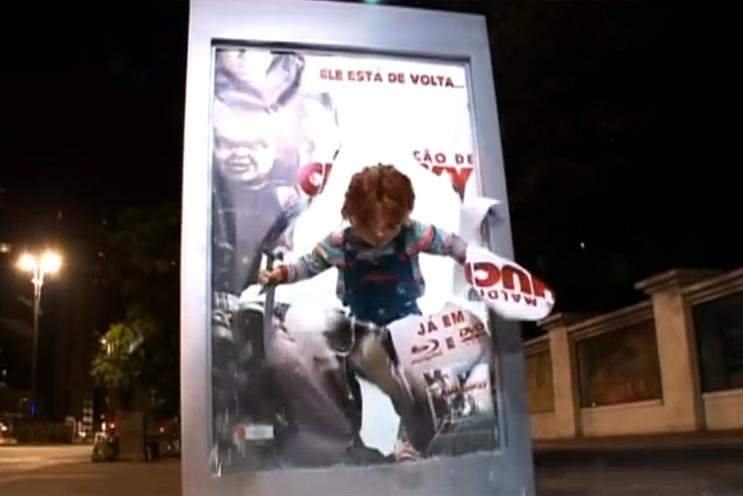 The ad for Universal Pictures, created in-house, shows the horror movie character 'Chucky' crashing through the glass of a bus stop while unsuspecting members of the public are waiting for a bus. The video has been shared 371,244 times this week.
The Volvo Trucks viral, starring van Damme, continues on top of the viral chart this week.
The ad, shared 429,729 times over the past seven days, features van Damme performing the splits while straddling two moving trucks. It has been shared 2.6 million times in total and was created by the agency Forsman & Bodenfors.
Elsewhere, Kmart's Christmas ad featuring a chorus of men playing jingle bells in their boxer shorts has taken third position. Created by Draftfcb, the ad has been shared 354,290 times this week.
John Lewis, who had the only Christmas ad in the chart two weeks ago, ranks seventh this week with 91,447 shares for its "the bear and the hare" spot, created by Adam & Eve/DDB.
For the second week in a row, the John Lewis and Kmart Christmas offerings are joined by a Christmas ad for the NBA, which is in tenth position, down from fifth last week.
The chart, collated and ranked by Unruly, ranks ads on YouTube by the number of shares across Facebook, Twitter and the blogosphere. Ads older than 30 days are not included.
1. Volvo Trucks "the epic split" by Forsman & Bodenfors
429,729 shares this week
All time: 2,669,924 shares
2. Universal Pictures "a maldição de chucky" created in-house
371,244 shares this week
All time: 796,053 shares
3. Kmart "show your joe" by Draftfcb
354,290 shares this week
All time: 1,380,008 shares
4. BBC "#sherlocklives" created in-house
172,113 shares this week
All time: 189,120 shares
5. Unilever "por que trazer uma criança a este mundo?" by DAVID Buenos Aires/Ogilvy & Mather London
131,336 shares this week
All time: 181,828 shares
6. Google "reunion" by Ogilvy India
97,896 shares this week
All time: 858,551 shares
7. John Lewis "the bear & the hare" by Adam & Eve/DDB
91,447 shares this week
All time: 869,608 shares
8. HBO "Girls: season 3" created in-house
66,243 shares this week
All time: 103,765 shares
9. EA "ultimate gymkhana grid course" created in-house
57,277 shares this week
All time: 761,265 shares
10. NBA "jingle hoops" by GS&P
51,996 shares this week
All time: 401,239 shares
AUTOFEEDCAMVIRAL