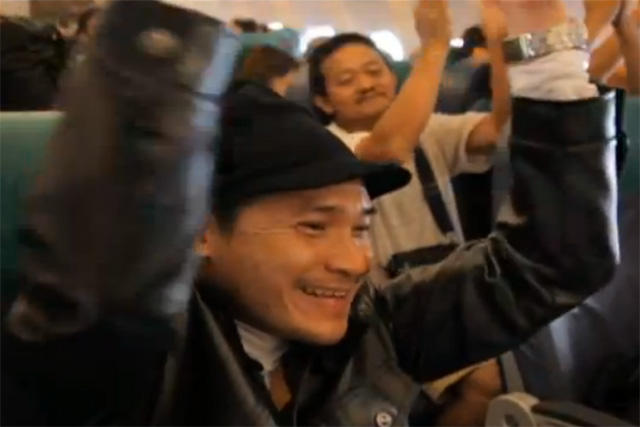 The film by McCann Erickson Philippines has now been shared in 708,758 Facebook status updates, 4,365 tweets and 117 blog posts, making an all-time total of 713,240 shares across the web.
The ad remains in the top position after being shared nearly 200,000 times last week but was just short of making the most shared of 2011 list.
David Attenborough's Wonderful World roundup, aired after the 'Frozen Planet' series finale, enters the chart in third position, with 132,144 shares this week.
It was the most popular ad on Facebook and featured in 133,348 status updates, 4,166 tweets and 136 blog posts.
The John Lewis Christmas ad dropped out of the chart this week, leaving space for Harvey Nichols' Christmas offering to enter the top five as well as festive ads from T-Mobile, EA Sports and Walmart.
The chart, produced in conjunction with Unruly, ranks ads according to the number of times they have been shared on Facebook, Twitter and the blogosphere.
Ads launched more than 30-days ago are not included.
1. Coca-Cola 'where will happiness strike next' by McCann Erickson Philippines
474,121 shares this week
All time: 713,240 shares

2. Nokia 'Deadmau5 4D projection' by Mission Media
163,085 shares this week
All time: 428,174 shares

3. BBC 'it's a wonderful world' by RKCR/Y&R
132,144 shares this week
All time: 137,650 shares

4. GetUp! 'it's time' by Motion Picture Company
115,077 shares this week
All time: 1,074,631 shares

5. Harvey Nichols 'the walk of shame' by DDB London
58,821 shares this week
All time: 79,256 shares

6. Pacific Standard Time 'Ice Cube celebrates the Eames' by TBWA/Chiat/Day LA
56,023 shares this week
All time: 60,411 shares

7. T-Mobile 'home for the holidays' by Optimedia
47,149 shares this week
All time: 56,467 shares

8. EA Sports 'FIFA 12 christmas' by Wieden & Kennedy Amsterdam
45,307 shares this week
All time: 74,476 shares

9. Walmart 'yodelling cat' by The Martin Agency
44,720 shares this week
All time: 47,007 shares

10. Brooks Brothers 'a holiday miracle' by Moxie Pictures
39,797 shares this week
All time: 55,016 shares