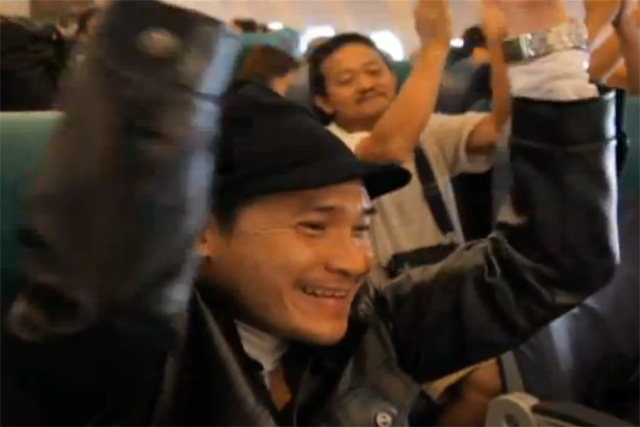 The film by McCann Erickson Philippines was shared a total of 192,329 times in the last week - including 82 blog posts and more than 3,000 tweets.
Last week's most shared, an advert promoting same-sex marriage, fell to number three in the chart, having been shared just short of one million times since it first launched.
The controversial "last dictator standing" ad for Nando's dropped to number nine in the chart with just 9,831 shares in the last seven days.
Three weeks after it entered the chart, John Lewis's Christmas ad is more than 700 shares ahead of rival, Harvey Nichols, which enters the chart for the first time with 11,106 shares this week.
The chart, produced in conjunction with Unruly, ranks ads according to the number of times they have been shared on Facebook, Twitter and in the blogosphere during the past seven days.
Ads launched more than 30 days ago are not included.
1. Coca-Cola 'where will happiness strike next' by McCann Erickson Philippines
192,329 shares this week
All time: 234,968 shares

2. Nokia 'Deadmau5 4D projection' by Mission Media
117,611 shares this week
All time: 241,880 shares

3. GetUp! 'it's time' by Motion Picture Company
78,419 shares this week
All time: 946,160 shares

4. Victoria's Secret 'moves like Jagger' by KCD Worldwide
18,317 shares this week
All time: 53,891 shares

5. Blizzard Entertainment 'hunter' by BBDO
14,193 shares this week
All time: 322,522 shares

6. John Lewis 'the long wait' by Adam & Eve
11,835 shares this week
All time: 347,979 shares

7. Harvey Nichols 'the walk of shame' by DDB London
11,106 shares this week
All time: 16,964 shares

8. Blizzard Entertainment 'birthday gift' by BBDO
10,002 shares this week
All time: 40,393 shares

9. Nando's 'last dictator standing' by Black River F.C
9,831 shares this week
All time: 79,366 shares

10. Brooks Brothers 'a holiday miracle' by Moxie Pictures
9,813 shares this week
All time: 12,877 shares