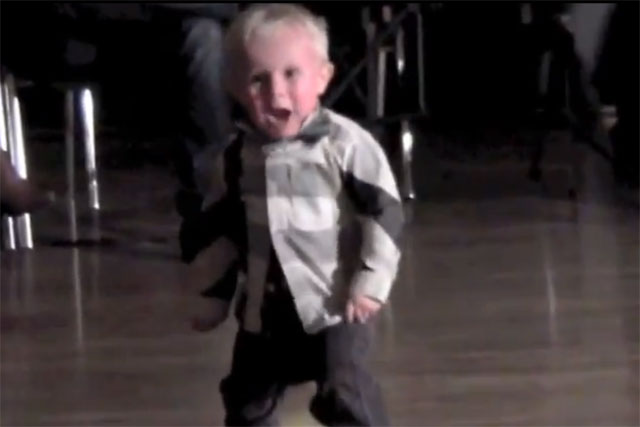 Two-year-old William Stokkebroe is featured in the amateur footage that has now gained unprecedented exposure for his parents' business, and has led to the naming of a product – the William dance shoe – after the young star.
The success of the initial video, posted on 15 March, prompted parents Kristina and Peter to upload another video of the toddler dancing the Paso doble, just over a week later, clocking up a further 72,000 views for their son, but failing to make the chart.
The video has ended the three-week dominance of a video from Invisible Children, 'Kony 2012' that has now been shared 9.9 million times since it was uploaded less than a month ago – more than 412,000 times a day on average.
The campaign, which aims to make Ugandan warlord Joseph Kony well known, has been heralded as one of the fastest-spreading viral ads ever, after it was shared five million times within days of its launch.
As the 2012 US presidential election race takes hold across the pond, two political videos, 'Obamaville' and 'The road we've traveled' have entered the top 10.
'Obamaville', a tale of despair centred around the re-election of incumbent President Barack Obama, by Republican hopeful Rick Santorum, has been the most popular – shared more than 10,000 more times than the pro-Obama 'The road we've traveled'.
Elsewhere, viral ads for Marshall and Angry Birds have entered the chart in the top five.
The chart, produced in conjunction with Unruly, ranks ads according to the number of times they have been shared on Facebook, Twitter and the blogosphere.
Ads launched more than 30 days ago are not included.
Due to technical issues with Twitter's API, shares from the social network were not included in the count.
1. Studie43 '2 year old dancing the jive' created in-house
943,754 shares this week
All time: 1,244,850 shares

2. Invisible Children Inc 'Kony 2012' created in-house
137,415 shares this week
All time: 9,895,329 shares

3. Marshall 'introducing Marshall Fridge' by Moment Communications
53,780 shares this week
All time: 89,302 shares

4. Rovio 'Angry Birds space' created in-house
49,589 shares this week
All time: 86,462 shares

5. RickSantorum.com 'Obamaville' created in-house
26,494 shares this week
All time: 37,406

6. Samsung 'Galaxy Note' by Cheil Worldwide
16,252 shares this week
All time: 17,079 shares

7. Obama for America 'the road we've traveled' by Electric Kinney Films
14,432 shares this week
All time: 289,445 shares

8. Google 'tour the Amazon with Street View' created in-house
13,887 shares this week
All time: 15,295 shares

9. DollarShaveClub.com 'our blades are f***ing great' created in-house
13,700 shares this week
All time: 142,956 shares

10. Sony Xperia 'made of imagination' by McCann Erickson
10,135 shares this week
All time: 16,011 shares