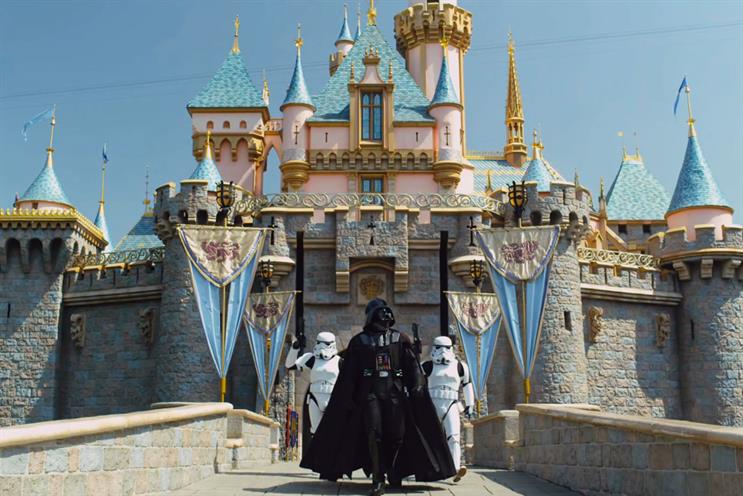 Disney's in-house effort to mark its acquisition of 'Star Wars' producer LucasFilm has been shared 244,922 times in the past seven days, bringing its all-time share total to just under 312,000 in nine days.
The most shared ad, with 524,745 shares across Facebook, Twitter and the blogosphere, sees Middle Earth take over the in-flight safety video for Air New Zealand.
The video, created in-house in collaboration with Weta Workshop, features a cameo from director of Lord of the Rings and the upcoming Hobbit movie, Peter Jackson.
Meanwhile, last-minute sharing of US political ads see efforts from both sides enter the charts.
An ad for re-elected President Barack Obama, starring Will Ferrell is the fifth most shared, trailing behind an ad for the Romney-Ryan campaign in third.
Justin Bieber also made the chart, with an ad made by BBH LA for his 'Girlfriend' fragrance, in sixth place, whilst British boyband One Direction made ninth place with an extended ad for Pepsi, by TBWA\Chiat\Day.
To view the most-shared viral ads from previous weeks, visit the Brand Republic viral video board on Pinterest.
The chart, produced in conjunction with Unruly, ranks ads according to the number of times they have been shared on Facebook, Twitter and the blogosphere.
Ads launched more than 30-days ago are not included.
1. Air New Zealand 'an unexpected briefing' by .99 New Zealand
524,745 shares this week
All time: 659,245 shares
2. Disney Parks 'Darth Vader' created in-house
244,922 shares this week
All time: 311,936 shares
3. Romney-Ryan 'revenge or love of country?' by Romney for President, Inc.
230,462 shares this week
All time: 247,080 shares
4. Activision 'Call of Duty: Black Ops II' by 72andSunny
160,258 shares this week
All time: 449,160 shares
5. Obama-Biden 'Will Ferrell will do anything to get you to vote' by Obama for America
99,274 shares this week
All time: 117,794 shares
6. Justin Bieber GIRLFRIEND 'teaser #3' by BBH LA
80,766 shares this week
All time: 141,004 shares
7. Pepsi Max 'Uncle Drew: chapter two' by Davie Brown Ent. & Minus L
65,530 shares this week
All time: 107,206 shares
8. Coke Zero 'unlock the 007 in you' by Duval Guillame Modem
51,069 shares this week
All time: 885,568 shares
9. Pepsi '1D and Drew Brees' by TBWA\Chiat\Day
28,269 shares this week
All time: 44,585 shares
10. LG 'so real it's scary' by Superheroes
24,135 shares this week
All time: 409,005 shares
Follow @brproducers