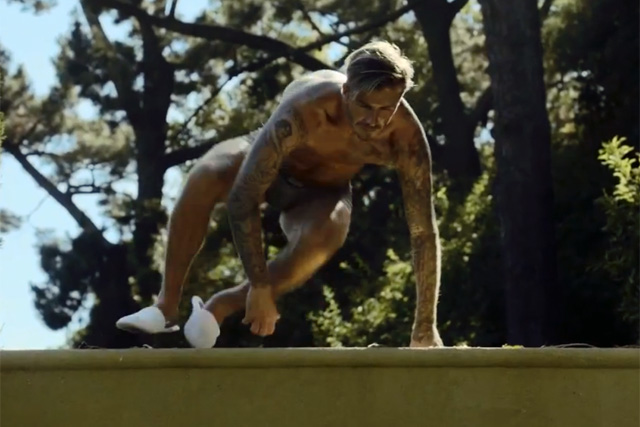 The Guy Richie-directed spot for H&M rises from third place last week to take the most-shared accolade for its second week in the chart, more than 117,000 shares up week on week.

Meanwhile, Sweet Brown, an American woman who became a viral sensation after she was interviewed by a local news team having witnessed a fire, has put her internet fame to use, starring in an ad for Shortline Dental in the US.

With just over 4.1 million views on YouTube, the ad is dwarfed by the 22.2 million views to the remix video that first made her a star.

A Valentine's Day-themed ad from the chocolate brand M&M's, "love ballad" by BDDO, entered the chart in sixth place this week with 44,873 shares.

Last week's most-shared ad, a Super Bowl spot for Budweiser, has fallen into ninth place, a performance echoed, but not matched, by other Super Bowl offerings that dominated last week's most-shared list.

However, an ad from the popular US washing power brand Tide, which was made for the Super Bowl, "miracle stain" by Saatchi & Saatchi, USA, entered the chart for the first time with 38,209 shares this week.

To view the most-shared viral ads from previous weeks, visit the Brand Republic viral video board on Pinterest.
The chart, produced in conjunction with Unruly, ranks ads according to the number of times they have been shared on Facebook, Twitter and the blogosphere.
Ads launched more than 30 days ago are not included.
1. H&M "spring 2013" by Marc Atlan Design
395,526 shares this week
All time: 700,910 shares
2. Shortline Dental "Toothache? Ain't nobody got time for that!" by Calhoun Advertising
211,006 shares this week
All time: 277,309 shares
3. DC Shoes "robbie maddison's air.craft" created in-house
85,400 shares this week
All time: 125,334 shares
4. Ram "farmer" by The Richards Group
80,887 shares this week
All time: 1,543,376 shares
5. GEICO "happier than Dikembe Mutombo blocking a shot" by The Martin Agency Inc.
64,733 shares this week
All time: 183,041 shares
6. M&M's "love ballad" by BDDO
44,873 shares this week
All time: 121,971 shares
7. PlayStation "from ashes" by Imaginary Forces
39,899 shares this week
All time: 163,947 shares
8. Tide "miracle stain" by Saatchi & Saatchi, USA
38,209 shares this week
All time: 126,114 shares
9. Budweiser "brotherhood" by Anomaly
37,602 shares this week
All time: 2,111,720 shares
10. Volkswagen "get in. get happy." by Deutsch LA
23,449 shares this week
All time: 341,922 shares