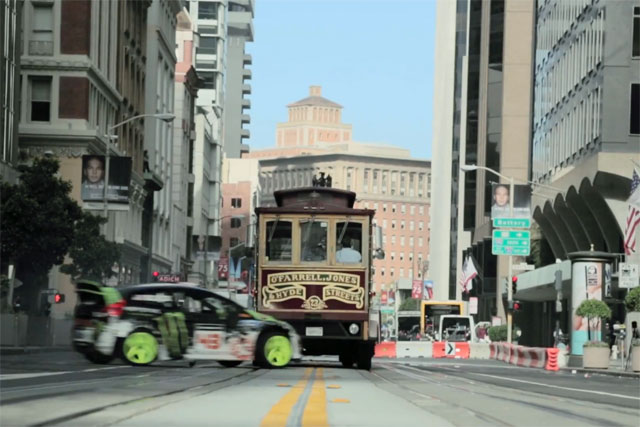 In DC's 10-minute video, stunt driver Ken Block weaves between moving trams and skids through the city. It has been watched more than three million times in the 24-hours it has been live on the web.
Last week's most shared, Abercrombie & Fitch's lip-synced "call me maybe", has fallen into third place, beaten by both Block and a flashmob for Spanish bank, Banco Som Sabadel.
Meanwhile, an ad for Greenpeace, the environmental charity and activist network, has been shared more than 16,000 times.
The ad features the voice of Jude Law, a soundtrack by Radio Head and a homeless polar bear making its way through urban scenes around the UK.
It has already inspired more than 100 blog posts, and calls for an end to oil drilling, industrial fishing and conflict in the Arctic.
BBH and Refuge's hard hitting ad in which beauty video blogger Lauren Luke provides a step-by-step guide to disguising the bruises and scars of domestic violence, enters the chart with 3,500 shares.
WIth just two weeks until the Olympic opening ceremony, the BBC's recently-revealed London 2012 coverage ad misses out on entering the chart, which has been shared just short of 3,000 times in the past seven days.
The chart, produced in conjunction with Unruly, ranks ads according to the number of times they have been shared on Facebook, Twitter and the blogosphere.
Ads launched more than 30-days ago are not included.
Due to technical issues with Twitter's API, shares from the social network were not included in the count.
1. DC Shoes 'Ken Block's gymkhana five' created in-house
1,001,494 shares this week
All time: 1,032,922 shares
2. Banco Som Sabadell 'flashmob' by Remake Comunicacion
77,619 shares this week
All time: 233,438 shares
3. Abercrombie & Firch 'call me maybe' created in-house
52,329 shares this week
All time: 1,552,558 shares
4. Greenpeace 'homeless polar bear in London'
16,789 shares this week
All time: 43,956 shares
5. Nokia 'Dark Knight rises' by Warner Bros.
7,377 shares this week
All time: 375,503 shares
6. McDonald's 'what is in the sauce?' by DDB
6,404 shares this week
All time: 10,264 shares
7. Refuge 'how to look your best the morning after' by BBH
3,561 shares this week
All time: 17,080 shares
8. Nike 'game on, world' by Wieden+Kennedy
3,166 shares this week
All time: 18,477 shares
9. Heineken 'the switch' by TBWA
2,782 shares this week
All time: 6,619 shares
10. JonLajoie.com 'comepletely honest commercial' created in-house
2,522 shares this week
All time: 8,044 shares