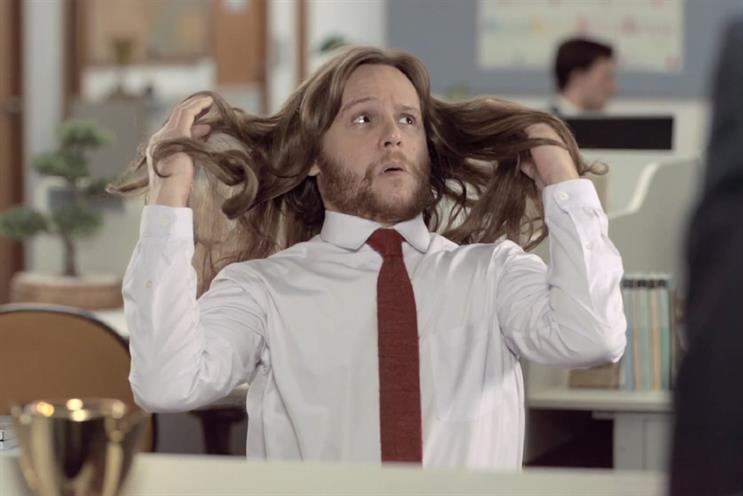 The ad, in which a man questions a colleague about his newly acquired "feminine" hair, has been viewed 2.1 million times since it hit the web, and has generated 2,500 comments on YouTube.
In first place, Pepsi Max's Jeff Gordon "test drive" viral retains top position for a second week, shared 570,902 times in the last seven days.
Also continuing in the chart for another week, Carlsberg's hidden-camera viral putting friends to the test (shared 160,608 times at number four) and Three's "#danceponydance", which is in seventh place with 36,872 shares.
Miami Heat's answer to the Harlem Shake drops from first place spot weeks ago into tenth position with 18,708 shares - down 1.3 million shares since it first appeared in the chart.
Although its film is devoid of brand ambassador Brad Pitt, Chanel once again enters the chart with a look at the luxury fashion brand's history.
The ad, featuring Karl Largerfeld, the brand's creative director, has been shared 153,975 times to take fifth place.
To view the most-shared viral ads from previous weeks, visit the Brand Republic viral video board on Pinterest.
The chart, produced in conjunction with Unruly, ranks ads according to the number of times they have been shared on Facebook, Twitter and the blogosphere.
Ads launched more than 30-days ago are not included.
1. Pepsi "test drive" by TBWA\Chiat\Day
570,902 shares this week
All time: 2,250,843 shares
2. Samsung "introducing Samsung Galaxy S4" by Cheil
221,221 shares this week
All time: 246,287 shares
3. Dove "Men + care" by Ogilvy & Mather, Brazil
167,218 shares this week
All time: 232,831 shares
4. Carlsberg "Carlsberg puts friends to the test" by Duval Guillaume Modem
160,608 shares this week
All time: 297,047 shares
5. Chanel "the jacket" created in-house
153,975 shares this week
All time: 290,768 shares
6. McDonald's "cuenta conmigo" by TBWA Spain
42,388 shares this week
All time: 46,687 shares
7. Three "#danceponydance" by Wieden & Kennedy
36,872 shares this week
All time: 939,391 shares
8. Le Trèfle "toilet paper" by Leo Burnett France
35,331 shares this week
All time: 103,404 shares
9. Adidas "play the messi way" by Iris Worldwide
22,141 shares this week
All time: 58,316 shares
10. Miami Heat "harlem shake Miami Heat edition" created in-house
18,708 shares this week
All time: 1,536,863 shares