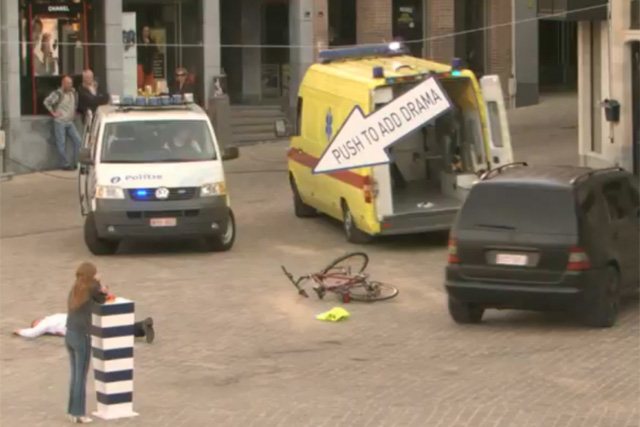 Following a streak of well-shared ads in the past weeks, including "Kony 2012" and dancing toddler "William", the ad for broadcaster, TNT Benelux, boasted over one million shares and four million views just a day after it was first published (11 April).
The UK's AMV BBDO takes sixth place with its "feel better energy" spot for EDF Energy.
Google has taken second place in the chart for a second week in a row. Its ad for augmented reality project, "project glass" rose through the chart from fourth last week to replace the search giant's "8-bit Google Maps" activity for April Fools' Day (now in ninth position).
Two-year-old dance sensation William Stokkebroe, who topped the previous two charts, shimmied down to fourth place with just over 100,000 shares this week, whilst David Beckham reappeared in the chart.
After viral success with his H&M bodywear ad, the international sports superstar rejoined the chart in seventh place with an ad for Burger King that was shared 17,647 times in the past week.
The chart, produced in conjunction with Unruly, ranks ads according to the number of times they have been shared on Facebook, Twitter and the blogosphere.
Ads launched more than 30 days ago are not included.
Due to technical issues with Twitter's API, shares from the social network were not included in the count.
1. TNT Benelux 'a dramatic surprise on a quiet square' by Duval Guillaume Modem
1,216,540 shares this week
All time: 1,216,540 shares

2. Google 'project glass' created in-house
426,652 shares this week
All time: 750,295 shares

3. Nike 'make it count' created in-house
198,689 shares this week
All time: 212,720 shares

4. Studie43 'two-year-old dancing the jive' created in-house
108,425 shares this week
All time: 1,600,516 shares

5. Nike 'I would run to you' by Wieden+Kennedy
99,733 shares this week
All time: 126,957

6. EDF Energy 'feel better energy' by AMV BBDO
29,935 shares this week
All time: 38,371 shares

7. Burger King 'David Beckham' by Mother
17,647 shares this week
All time: 39,914 shares

8. Nintendo 'Joel McHale goes viral for Nintendo'
14,601 shares this week
All time: 14,629 shares

9. Google Maps '8-bit for NES' created in-house
11,642 shares this week
All time: 507,404 shares

10. Google 'introducing Gmail tap' created in-house
10,290 shares this week
All time: 131,841 shares