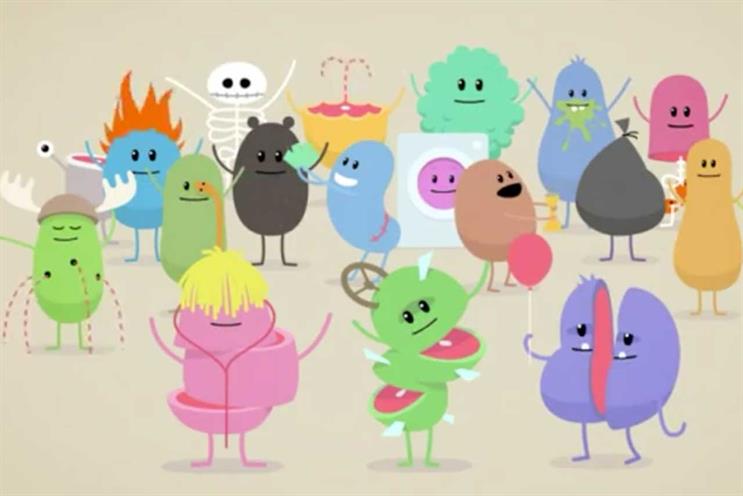 "Dumb ways to die", created by McCann Melbourne, encourages people to stay safe around trains. It features cartoon characters meeting untimely ends, to warn people not to "take their helmet off in outer space" or "sell both their kidneys on the internet".
Meanwhile, Adam & Eve/DDB's Christmas ad for John Lewis has fallen to sixth place, with almost two million views and 236,140 shares.
Coming in at second place with 288,663 Facebook shares is Chanel's "Marilyn and N°5".
A close third is last week's winner, Red Bull, with "the athlete machine" by Syyn Labs, totalling nearly 10.5 million views and 808,818 Facebook shares.
To view the most-shared viral ads from previous weeks, visit the Brand Republic viral video board on Pinterest.
The chart, produced in conjunction with Unruly, ranks ads according to the number of times they have been shared on Facebook, Twitter and the blogosphere.
Ads launched more than 30-days ago are not included.
1. Metro Trains Melbourne 'dumb ways to die' by McCann Melbourne
1,527,122 shares this week
All time: 1,593,486 shares
2. Chanel 'Marilyn and N°5' created in-house
291,040 shares this week
All time: 294,310 shares
3. Red Bull 'the athlete machine' by Syyn Labs
263,230 shares this week
All time: 838,533 shares
4.Macy's 'what's in store' by JWT, New York
232,013 shares this week
All time: 262,757 shares
5. Crowdrise 'Self-taught African Teen Wows M.I.T.' by Radical Media
123,792 shares this week
All time: 136,776 shares
6. John Lewis 'the journey' by Adam & Eve/DDB, London
43,554 shares this week
All time: 236,140 shares
7. Louis Vuitton 'L'Invitation Au Voyage' by Inez and Vinoodh
34,319 shares this week
All time: 119,721 shares
8. Made Many 'your mo will get fuller' by Break Media
28,434 shares this week
All time: 102,616 shares
9.Rockstar Games 'Grand Theft Auto V' created in-house
9,842 shares this week
All time: 57,262 shares
10. Angry Birds 'Star Wars' created in-house
8,238 shares this week
All time: 76,152 shares
Follow @thebenha