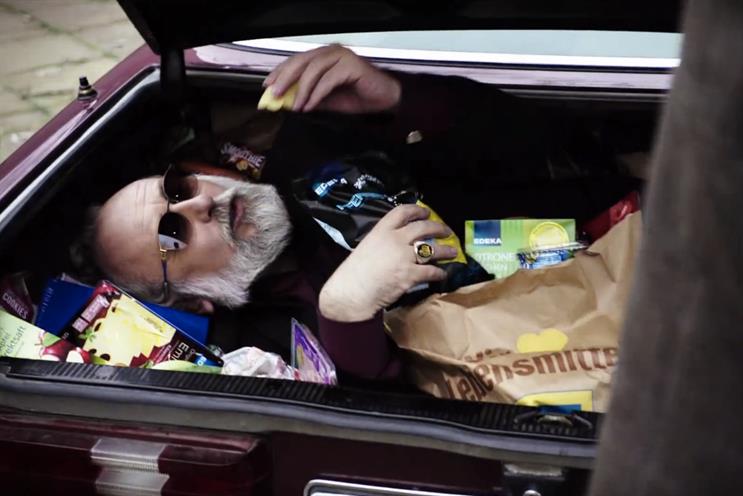 The ads were created by the Jung Von Matt agency, which has had viral successes previously with ads including Mercedes Benz's "chicken" and a recent ad for delivery company DHL.
The surreal ads feature the German actor-turned-electropop entertainer Friedrich Liechtenstein performing while sitting in a bath of milk, dancing through a kitchen and popping up in the boot of someone's car eating crisps.
The most popular ad, "supergeil", accounts for 244,588 shares of the combined total, the other two ads were shared more than 23,000 times each this week.
At the top of the chart, a video from the SOS Mayday action network was shared 266,358 times this week.
The hidden-camera spot features a small child called Johannes sitting cold and alone. The ad was designed as a social experiment to test Norwegian commuters' kindness to see if they would help the child.
The ad aims to raise awareness of the suffering of thousands of children living in war-torn Syria. It was created by Slager Kommunikasjon and Pure Content.
Last week's number one, a romantic ad from the haircare brand Schwarzkopf, was ninth in this week's chart.
The chart is collated by Unruly and ranks ads on YouTube by the number of shares across Facebook, Twitter and the blogosphere. Ads older than 30 days are not included.
1. SOS Mayday "would you give your jacket to johannes?" by Släger Kommunikasjon and Pure Content
266,358 shares this week | 321,383 shares all-time
---
2. Three "#singitkitty" by Wieden & Kennedy
245,575 shares this week | 245,575 shares all-time
---
3. Coca-Cola "coca-cola social media guard" by Memac Ogilvy
237,766 shares this week | 239,622 shares all-time
---
4. Edeka "edeka supergeil (feat. friedrich liechtenstein)" by Jung Von Matt
224,588 shares this week | 224,588 shares all-time
---
5. Kraft "go ninja, go" by Crispin Porter & Bogusky
59,309 shares this week | 117,267 shares all-time
---
6. P&G "tough love" by Wieden & Kennedy
56,323 shares this week | 56,598 shares all-time
---
7. Sony "details make the difference" by Adam & Eve/DDB
43,651 shares this week | 43,651 shares all-time
---
8. Edeka "supergeiler kollege" by Jung Von Matt
24,272 shares this week | 24,272 shares all-time
---
9. Schwarzkopf "you" by BBDO Dusseldorf
23,633 shares this week | 331,707 shares all-time
---
10. Edeka "supergeiler mann" by Jung Von Matt
23,213 shares this week | 23,213 shares all-time
---
AUTOFEEDCAMVIRAL