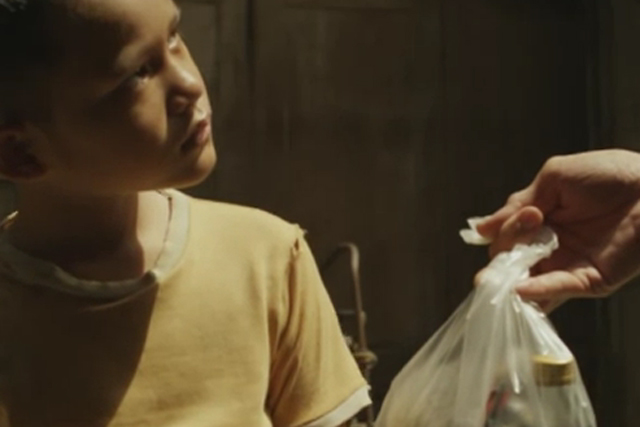 The ad has now been viewed on YouTube more than 9.5 million times. It features a doctor who repays a childhood debt by paying the medical bills of a seriously ill patient who helped him out 30-years earlier.
The three-minute ad has picked up most of its shares from Facebook, where it has been mentioned in more than 870,000 status updates.
Phonebloks takes second place with a spot about making mobile phone upgrades and personalisation more environmentally friendly. It has been shared 364,181 times this week.
The ad has been created in-house and describes how the company intends to manufacture mobile phones with easily removable "blocks", which allow users to upgrade and customise their devices without having to buy a new phone.
It calls on consumers to lobby businesses already in the mobile industry to support the idea.
An ad for Poopourri takes third place. The product claims to eliminate bathroom outdoors and has been shared 297,533 times.
The video, created by The Harmon Brothers, claims "girls don't poop" in a comical ad to promote the product.
Meanwhile, ads for Guinness, LG, Diora me Ea Sports remain in the chart for another week.
The chart, based on data provided by Unruly, ranks ads on YouTube by the number of shares across Facebook, Twitter and the blogosphere. Ads older than 30-days are not included.
1. TrueMove "30 years"
701,396 shares this week
All time: 896,287 shares
2. Phonebloks "phonebloks" created in-house
364,181 shares this week
All time: 888,596 shares
3. Poo Pourri "girls don't poop" by The Harmon Brothers
297,533 shares this week
All time: 442,595 shares
4. Chipotle "the scarecrow" by CAA Marketing
258,157 shares this week
All time: 296,627 shares
5. Guinness "basketball" by BBDO
83,730 shares this week
All time: 498,375 shares
6. Samsung "introducing samsung galaxy note 3" by In-House
73,000 shares this week
All time: 346,576 shares
7. EA Sports "we are fifa 14" by Wieden & Kennedy, Amsterdam
47,228 shares this week
All time: 207,836 shares
8. LG "what would you do in this situation?" by SuperHeroes
42,600 shares this week
All time: 577,651 shares
9. Dior "dior homme" by Iconoclast
35,216 shares this week
All time: 152,857 shares
10. Volvo "the hamster stunt" created in-house
32,433 shares this week
All time: 50,263 shares
AUTOFEEDCAMVIRAL