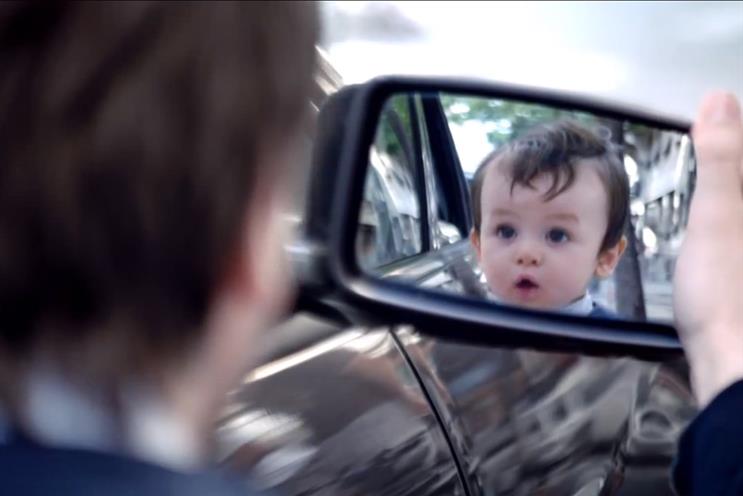 The ad, by BETC Paris, features the return of Evian's long-running dancing babies and has been viewed 34.1 million times since it hit the web last Friday afternoon (18 April).

Placed first last week, Kmart's "ship my pants" ad, created by Draftfcb, falls two places into third position after it was shared more than half a million times.

Elsewhere, a new ad for Durex, created by Havas Worldwide Sydney, has entered the chart in fourth position.

Shared 106,615 times, the ad shows a couple using internet video chat and Durex "fundawear" to "touch" over the internet.

The Pepsi ad, starring Beyoncé, falls to 10th place this week, while Ikea's "time to change" ad, in which an army of garden gnomes revolt against a couple decorating their garden, enters just above in ninth position.
The chart was produced in association with Unruly and ranks ads by the number of times they were shared across Facebook, Twitter and the blogosphere.
1. Evian "baby&me" by BETC
1,469,732 shares this week
All time: 1,497,672 shares
2. Dove "dove real beauty sketches" by Ogilvy Mather
958,618 shares this week
All time: 2,716,598 shares
3. Kmart "ship my pants" by Draftfcb
512,876 shares this week
All time: 2,180,188 shares
4. Durex "fundawear" by Havas Worldwide, Sydney
106,615 shares this week
All time: 133,139 shares
5. Fiat "líder de torcida" by Sunset & Back Door
27,093 shares this week
All time: 108,790 shares
6. LG "stage fright" by SuperHeroes
19,560 shares this week
All time: 32,791 shares
7. Vodafone "the kiss" by Grey London
18,190 shares this week
All time: 101,807 shares
8. Old Spice "watermelon" by Wieden & Kennedy Portland
16,240 shares this week
All time: 53,086 shares
9. IKEA "time for change" by Mother London
14,330 shares this week
All time: 34,243 shares
10. Pepsi Max "mirrors" by 180LA
8,196 shares this week
All time: 251,538 shares