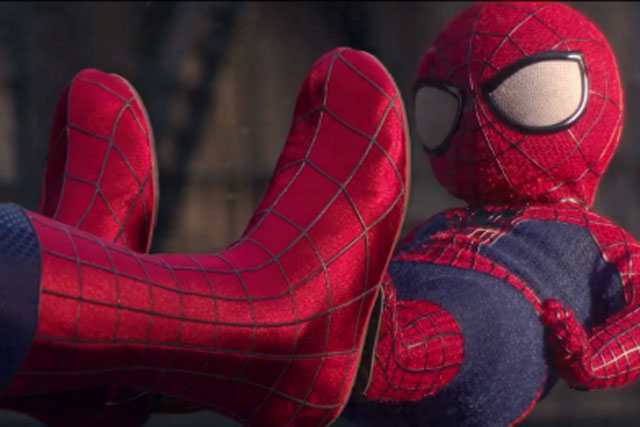 The ad mimics its previous "baby & me" work. The new ad features Spider-Man and his reflection (a baby version of the super hero) swinging through New York, dancing and making web art.
It has been shared 260,172 times this week ahead of its premiere in London last night.
An ad from Honey Maid, the American grocery products brand, came second in the chart with 248,311 shares this week.
Created by Droga5, the ad addresses the backlash on social media to a previous commercial for the brand, which featured a diverse range of families, including gay fathers.
In the latest ad, two artists spell out the word "Love" with print outs of some of the negative posts, collected from YouTube and Honey Maid's social networking accounts. Copies of positive comments complete the work and dwarf the negative messages.
Last week's chart topper, Google Maps' "Pokemon master" April Fool, stays in this week's list with 117,650 shares.
The chart is collated and ranked based on data provided by Unruly. It lists ads on YouTube by the number of shares across Facebook, Twitter and the blogosphere. Ads older than 30 days are not included.
1. Evian "the amazing baby & me 2" by BETC, Paris
260,172 shares this week | 271,365 shares all-time
---
2. Honey Maid "love" by Droga5
248,311 shares this week | 248,311 shares all-time
---
3. Google "google maps: pokémon challenge" created in-house
117,650 shares this week | 486,938 shares all-time
---
4. Thai Life Insurance "unsung hero"
79,287 shares this week | 79,287 shares all-time
---
5. Sony "xperia z2"
75,220 shares this week | 79,341 shares all-time
---
6. Pepsi "kick in the mix (calvin harris)" by CLM BBDO
73,566 shares this week | 208,257 shares all-time
---
7. Nike Football "risk everything. cristiano ronaldo, neymar jr. & wayne rooney" by Wieden & Kennedy
44,660 shares this week | 121,067 shares all-time
---
8. Cornetto "yalin - yeniden" by MoFilm/RSA
42,604 shares this week | 42,604 shares all-time
---
9. Chelsea & adidas "forever bluel" by The Corner
39,727 shares this week | 39,727 shares all-time
---
10. Jaguar "the art of villainy with tom hiddleston" by Spark 44
36,285 shares this week | 43,145 shares all-time
---
AUTOFEEDCAMVIRAL