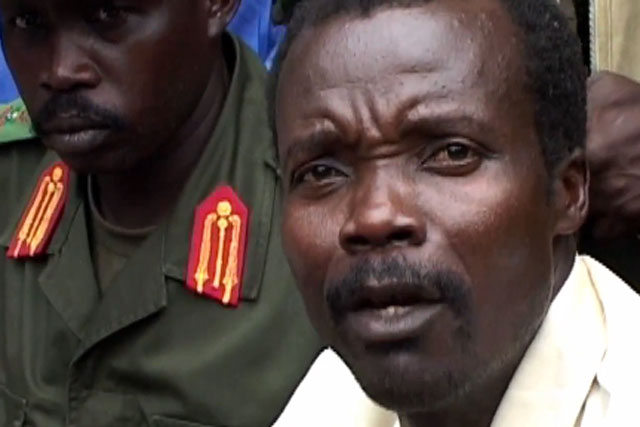 "Kony 2012" was funded by a campaign group called Invisible Children and directed by Jason Russell, one of its founders.
It has far outstripped other ads in the viral chart in terms of shares, with 5.35 million Facebook shares and 3,277 blog posts.
Last week's most shared ad, M&M's Super Bowl effort "sexy and I know it", managed 457,786 shares in four weeks and this week's second most shared, Mercedes' "invisible", has recorded 118,392 shares in the past seven days.
"Kony 2012" has two aims. It's first is to ensure Kony, leader of the Lord's Resistance Army, is known as "the world's worst war criminal". It's second aim is to persuade the US government to keep supporting the Ugandan army until Kony is captured and his army, which includes child soliders, is disarmed.
The group claims the US government is due to end the support this year.
Invisible Children also wants to engage 20 "culturemakers", including Rihanna and Mark Zuckerberg, and 12 policymakers, including Bill Clinton and George W Bush, to persuade people to send the cause messages of support.
Elsewhere in the chart, luxury brand Cartier took third position, The Guardian's "three little pigs" by Bartle Bogle Hegarty London entered the chart in sixth place and Guinness's St Patrick's Day viral by Abbott Mead Vickers BBDO made its debut at number seven.
The chart, produced in conjunction with Unruly, ranks ads according to the number of times they have been shared on Facebook, Twitter and the blogosphere.
Ads launched more than 30-days ago are not included.
Due to technical issues with Twitter's API, shares from the social network were not included in the count.
1. Invisible Children Inc 'Kony 2012' created in-house
5,350,044 shares this week
All time: 5,356,851 shares

2. Mercedes 'invisible' by Jung Von Matt
118,392 shares this week
All time: 122,933 shares

3. Cartier 'l'odyssee de Cartier' by Marcel, Paris
56,339 shares this week
All time: 58,023 shares

4. DollarShaveClub.com 'our blades are f***king great' created in-house
51,108 shares this week
All time: 55,708 shares

5. Converse 'do ya thing' by HSI London
36,108 shares this week
All time: 86,624

6. Guardian 'three little pigs' by BBH London
35,297 shares this week
All time: 41,086 shares

7. Guinness 'round up your mates' by AMV BBDO
20,132 shares this week
All time: 21,821 shares

8. Fiat 'house arrest' by Doner and Richards Group, Detroit
11,182 shares this week
All time: 11,890 shares

9. Carl's Junior 'drive-in' by 72andSunny
9,396 shares this week
All time: 25,929 shares

10. Google 'introducing Google Play' by Studio G
5,935 shares this week
All time: 6,333 shares