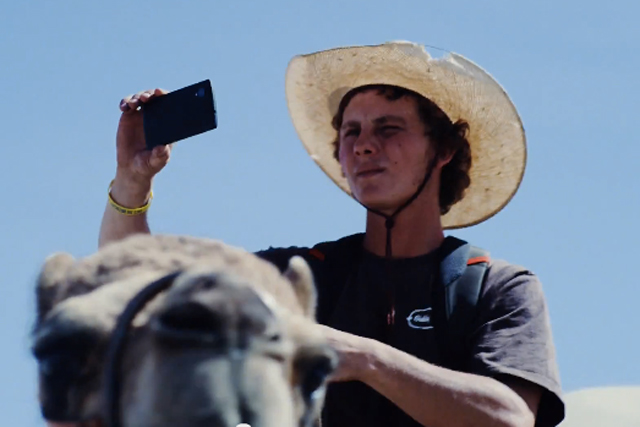 The ad is based around the children's cartoon Pokémon. It advertises a new role at Google Maps and features Brian McLendon, the divison's vice president. He explains how Pokémon masters (people who seek and capture Pokémon) are the "world's greatest digital explorers" who can develop mapping products further.
Spies, the Danish travel agent, appears second in the chart with an ad from Robert/Boisen & Like-Minded Amsterdam.
The ad references Denmark's low birth rate and a report that reveals couples get more intimate on their travels. It poses the question, "can sex save Denmark's future?" and has been shared 110,628 times this week.
An Australian April Fools Day ad for Snickers also made the chart. The ad features builders, ordinarily well known for wolf whistling and making sexist comments, shout empowering comments at unsuspecting members of the public.
Created by Celemenger BBDO Australia, the ad was shared 63,925 times this week and sits at fourth in the most-shared listing.
Top of the chart last week, Coordown, the Italian Down Syndrome organisation, has moved to ninth in the chart this week.
The ad, created by Saatchi & Saatchi Italy, was shared 21,641 times this week and stars people with Down Syndrome and their parents reassuring an expectant mother that her baby will have a normal life.
The chart is collated and ranked based on data provided by Unruly lists ads on YouTube by the number of shares across Facebook, Twitter and the blogosphere. Ads older than 30 days are not included.
1. Google "Pokémon challenge" Created in-house
369,288 shares this week | 369,288 shares all-time
---
2. Spies Travel "do it for denmark!" by RBLM, Amsterdam
110,628 shares this week | 117,726 shares all-time
---
3. Nike Football "risk everything. cristiano ronaldo, neymar jr. & wayne rooney" by Wieden & Kennedy Portland
76,407 shares this week | 76,407 shares all-time
---
4. Snickers "aussie builders surprise public with loud empowering statements" by Clemenger BBDO, Australia
63,925 shares this week | 73,392 shares all-time
---
5. Durex "durex #turnofftoturnon - official" by TMW
57,690 shares this week | 142,886 shares all-time
---
6. Pepsi "unbelievable #livefornow" by AMV BBDO
39,345 shares this week | 117,777 shares all-time
---
7. Wren Clothing "first kiss" by Tatia Plleva
30,279 shares this week | 1,446,731 shares all-time
---
8. Chanel "she's not there"
23,319 shares this week | 215,943 shares all-time
---
9. Coordown "#dearfuturemom" by Saatchi & Saatchi, Italy
21,641 shares this week | 724,628 shares all-time
---
10. Samsung "samsung galaxy s5 official hands-on" created in-house
3,687 shares this week | 385,380 shares all-time
---
AUTOFEEDCAMVIRAL