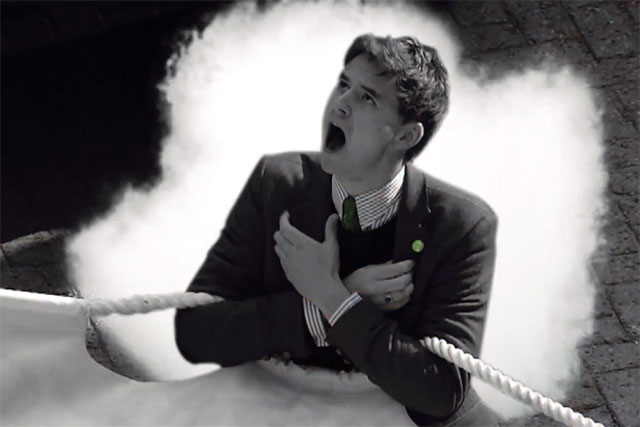 The ad builds on past videos for the yet-to-be-released hardware that promises to bring augmented reality to mainstream use.
Meanwhile, an ad for Heineken by Publicis Milan, documented the alcohol brand's new take on interviewing techniques. Wannabe interns were walked to and from their interviews by the hand and tested on their response to a medical emergency and their willingness to help out in a building evacuation.
Heineken staff voted for the winner, who was rewarded with an internship.
The ad, this week's fifth most-shared, has been used in 65 blog posts since it hit the web and has been shared 52,916 times in the past seven days.
Continuing the hidden-camera theme, Nivea scooped second place this week with an ad produced by Felix & Lamberti, Germany.
The ad put members of the public through a stress test and used undercover pictures of them on the front of newspapers and in TV news bulletins.
The ad was shared 138,152 times this week, and has been used in more than 200 blog posts and viewed 4.4 million times since it was published on YouTube.
Elsewhere, Blackberry made a late Super Bowl appearance with their gameday ad for the Blackberry 10 by BBDO London.
To view the most-shared viral ads from previous weeks, visit the Brand Republic viral video board on Pinterest.
The chart, produced in conjunction with Unruly, ranks ads according to the number of times they have been shared on Facebook, Twitter and the blogosphere.
Ads launched more than 30-days ago are not included.
1. Google "how it feels" by Google Creative Lab
229,391 shares this week
All time: 245,464 shares
2. Nivea "stress test" by Felix & Lamberti, Germany
138,152 shares this week
All time: 176,042 shares
3. Mini "we've landed" by Gravi-T
74,088 shares this week
All time: 103,118 shares
4. DC Shoes "air.craft" created in-house
53,230 shares this week
All time: 179,066 shares
5. Heineken "the candidate" by Publicis, Milan
52,916 shares this week
All time: 71,090 shares
6. GEICO "happier than Dikembe Mutombo blocking a shot" by The Martin Agency Inc.
48,125 shares this week
All time: 231,822 shares
7. BlackBerry "what BlackBerry 10 can't do" by BBDO, London
45,696 shares this week
All time: 62,561 shares
8. H&M "spring 2013" by Marc Atlan Design
37,955 shares this week
All time: 738,315 shares
9. Honda "presidents' day TV commercial" by RPA
29,554 shares this week
All time: 37,283 shares
10. Volkswagen "mask" by Deutsch
28,331 shares this week
All time: 38,587 shares