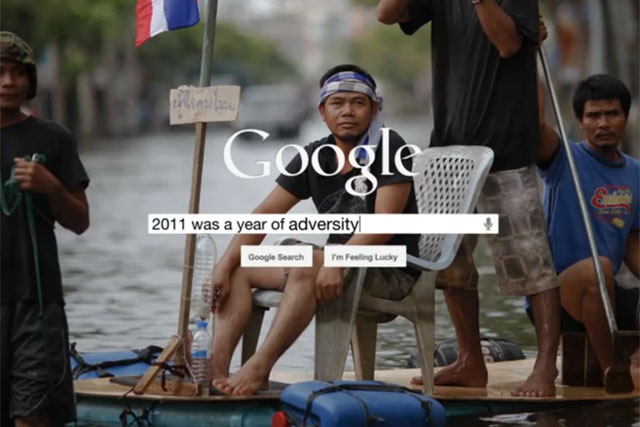 The ad, created by agency Whirled, has generated 476,022 Facebook status updates, 54,529 tweets and 1,875 blog posts since it was published.
Another ad from Google, promoting Google+ hangouts and featuring The Muppets, was a success across social networks with 2,659 shares in the last seven days, ranking fifth in the chart.
Echoing its viral successes at the end of 2011, Coca Cola entered the top five with just under 10,000 shares this week with its Spanish "superhéroes" adv.
The chart, produced in conjunction with Unruly, ranks ads according to the number of times they have been shared on Facebook, Twitter and the blogosphere.
Ads launched more than 30 days ago are not included.
1. Google 'Zeitgeist 2011' by Whirled
123,462 shares this week
All time: 534,950 shares

2. Nitro Circus 'Nitro Circus the movie' by Red Bull Media House
28,316 shares this week
All time: 67,067 shares

3. GEICO 'Maxwell the pig returns' by The Martin Agency
15,167 shares this week
All time: 25,965 shares

4. Coca Cola 'superhéroes' by Ogilvy & Mather Spain
9,936 shares this week
All time: 14,748 shares

5. Google 'The Muppets rock out' in-house
4,200 shares this week
All time: 13,630 shares

6. EA 'Star Wars: the old republic' in-house
3,815 shares this week
All time: 110,605 shares

7. LG 'fashion industry exposed' by Y&R New York
3,138 shares this week
All time: 42,654 shares

8. Libra 'tampons' by Clemenger BBDO Melbourne
2,334 shares this week
All time: 3,903 shares

9. Peugeot 'motion and emotion' by BD Network
1,670 shares this week
All time: 21,564 shares

10. Nike '#makeitcount' by AKQA
845 shares this week
All time: 1,286 shares