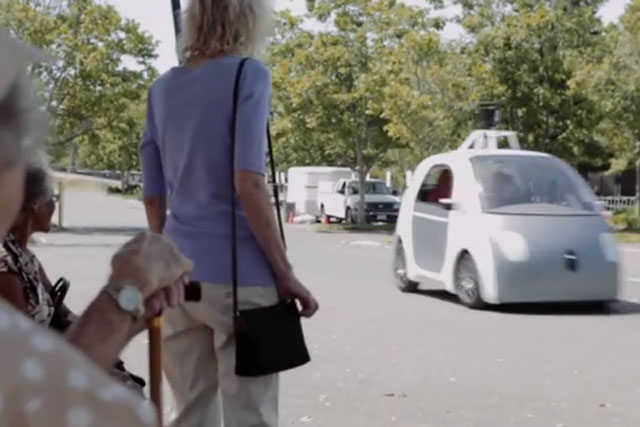 The film is called "a first drive" and features Google staff testing prototypes of its machine-driven car, which has no steering wheel, on some of the public for the first time.
It shows volunteers, including two blind people called Thida and Steve, experiencing a ride in the car, and Google's engineers explaining the concept.
Colombian singer Shakira remains in the top position on the viral chart, as she was last week, with the Activia World Cup song "la la la" in support of the UN's World Food Partnership. The ad was shared 2,085,403 times in the last week, according to video measurement specialist Unruly.
Meanwhile, Adidas, which was the second most-shared ad last week, has dropped to third position with "the dream: all in or nothing", its World Cup-themed ad featuring footballers.
In second place is another football-related ad: one of the films from Samsung's series of ads for its Galaxy 11 phone model.
1. Activa "la la la (brazil 2014)" By Jaume de Laiguana
2,085,403 shares in last 30 days shares this week | 2,085,403 shares all-time
---
2. Samsung "#galaxy11: the training" by Cheil Worldwide
494,908 shares in last 30 days shares this week | 494,908 shares all-time
---
3. adidas "the dream: all in or nothing" by TBWA LA
174,055 shares in last 30 days shares this week | 174,055 shares all-time
---
4. Coca-Cola "coca-cola friendly twist" by Leo Burnett Colombia
141,290 shares in last 30 days shares this week | 141,290 shares all-time
---
5. Google "a first drive" created in-house
114,013 shares in last 30 days shares this week | 114,013 shares all-time
---
6. adidas "wear it or fear it" Created in-house
72,987 shares in last 30 days shares this week | 72,987 shares all-time
---
7. Castrol "castrol edge titanium strong blackout" by Logan
72,887 shares in last 30 days shares this week | 72,887 shares all-time
---
8. Red Bull "danny macaskill - epecuén - 2014" Created in-house
69,192 shares in last 30 days shares this week | 69,192 shares all-time
---
9. TAG Heuer "behind the scenes with ronaldo : the start of a successful relationship" Created in-house
60,259 shares in last 30 days shares this week | 60,259 shares all-time
---
10. ManKind "#violenceisviolence" by Dare
6,424 shares in last 30 days shares this week | 6,424 shares all-time
---