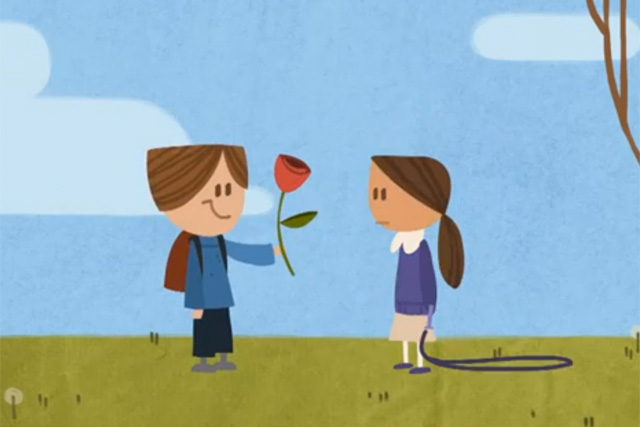 The video, breaking a three-week run of Super Bowl ads dominance at the top of the chart, has generated 90,103 shares on Facebook and 256 blog posts since its release.
Super Bowl ads from H&M, Volkswagen and M&Ms are the only ones to remain in this week's chart.
Sharing of H&M's ad for David Beckham's bodywear range fell to under 10,000, the video having now been viewed more than two million times.
A resurgence in the sharing of a Wheat Thins ad, starring Brian and Stewie from US cartoon series 'Family Guy', sees the video re-enter the chart after a two-week lapse.
An ad for Ecotricity, showing the demise of animated cooling towers in favour of wind turbines, enters the chart in third place with 25,180 shares.
The chart, produced in conjunction with Unruly, ranks ads according to the number of times they have been shared on Facebook, Twitter and the blogosphere.
Ads launched more than 30 days ago are not included.
Due to technical issues with Twitter's API, shares from the social network have not been included in this week's count.
1. Google 'Valentine's Day Doodle' by Saatchi & Saatchi
88,406 shares this week
All time: 90,359 shares

2. M&M 'sexy and I know it' by BBDO New York
56,978 shares this week
All time: 400,778 shares

3. Ecotricity 'collapsing cooling towers' Man + Hatchet
25,180 shares this week
All time: 39,095 shares

4. Volkswagen 'the dog strikes back' by Deutsch, LA
15,534 shares this week
All time: 239,762 shares

5. Volkswagen 'the bark side' by Deutsch, LA
13,368 shares this week
All time: 751,313

6. Social Media Week 'future hipsters' by Entrinsic
11,173 shares this week
All time: 21,699 shares

7. H&M 'David Beckham bodywear' created in-house
9,158 shares this week
All time: 76,253 shares

8. PETA 'boyfriend went vegan' by Matter, USA
8,642 shares this week
All time: 17,783 shares

9. Wheat Thins 'whheat thins' by Being, NY
7,801 shares this week
All time: 49,936 shares

10. Old Spice 'bounce' by Wieden & Kennedy
4,017 shares this week
All time: 69,491 shares