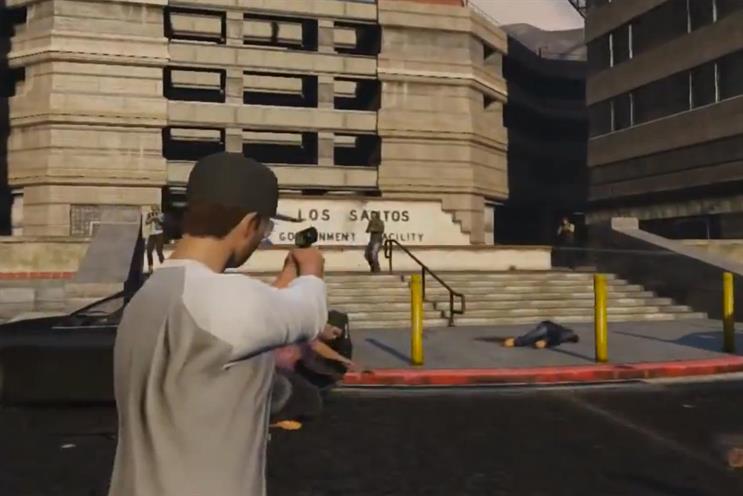 The official gameplay trailer, created in-house by Rockstar, is joined in the most-shared ad chart by three other video game titles.
In second place, the official reveal trailer for the latest instalment in the 'Call of Duty' (COD) franchise is the only video game in this week's chart to have been produced by an agency.
Created by 72andSunny, which has produced several viral successes for the COD series, the ad has been shared 105,177 times this week.
Following the start of the Barclay's Premier League last weekend, football video game 'Fifa 14' also debuts in the chart with an in-house ad shared 39,000 times.
An ad for the third incarnation of the 'Diablo' video game, also created in-house by games-maker Blizzard, is the final game trailer in the chart, taking sixth position.
Nike takes third place this week with an ad from Wieden & Kennedy Portland promoting the possibilities of the brand's product range.
The inspirational ad urges viewers to challenge their comfort zones and showcases individuals upping the ante in rhinoceros rodeos, outrunning Hollywood action stars and taking on professional basketball players.
The chart, ranked according to sharing data provided by Unruly, tracks the number of shares of ads across Facebook, Twitter and the blogosphere. Ads older than 30-days are not included.
1. Rockstar "GTA online: official gameplay video" created in-house
124,285 shares this week
All time: 170,230 shares
2. Activision "Call of Duty: Ghosts multiplayer reveal trailer" by 72andSunny
105,177 shares this week
All time: 191,958 shares
3. Nike "possibilities" by Wieden & Kennedy Portland
46,371 shares this week
All time: 51,676 shares
4. NBC Sports "an American Coach in London" by The Brooklyn Brothers
43,657 shares this week
All time: 366,150 shares
5. EA Sports "Fifa 14 gameplay trailer" created in-house
39,092 shares this week
All time: 55,386 shares
6. Blizzard "Diablo III" created in-house
27,729 shares this week
All time: 93,802 shares
7. HTC "here's to change" by 171 Worldwide
26,904 shares this week
All time: 53,080 shares
8. AT&T "from one second to the next" by Werner Herzog and Saville Productions
25,475 shares this week
All time: 105,587 shares
9. McDonald's "studio session with Austin Mahone" by Moroch Partners, Dallas
23,782 shares this week
All time: 24,461 shares
10. HBO "Eastbound and Down Season 4" created In-house
18,632 shares this week
All time: 18,938 shares
AUTOFEEDCAMVIRAL