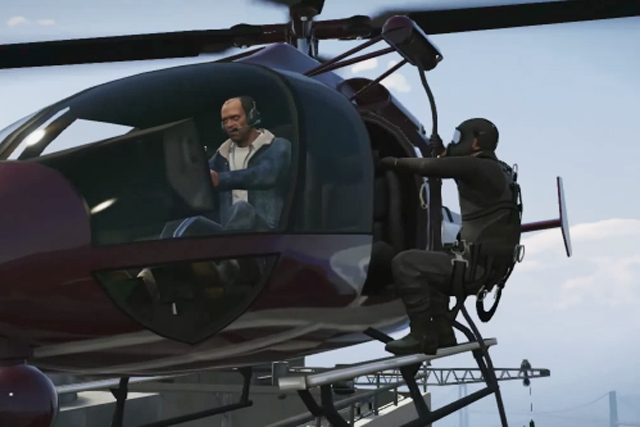 The ad for Rockstar games, created in-house, has been shared 121,609 times - more than double its closest rival, Honda's "hands" by Wieden & Kennedy.
O2's "be more dog" has entered the chart for the first time since the campaign launched earlier this month.
The ad, created by VCCP, has been shared just shy of 112,000 times and has been followed up by a "be more dog" app.
A film by The Guardian for prisoner rights charity, Reprieve, was this week shared 23,355 times and sits in sixth place in the chart, down from three last week.
The harrowing four-minute video, starring Mos Def, features the rapper undergoing the standard procedure to force feed prisoners on hunger strike at Guantanamo Bay.
New in the chart is an ad for whisky brand Johnnie Walker starring a computer-generated Bruce Lee. It has been shared more than 10,000 times in the past seven days.
The actor and martial arts expert, who died 40-years ago tomorrow (20 July), was resurrected using CGI by Bartle Bogle Hegarty China for the ad.
The chart, produced in collaboration with Unruly, tracks the number of shares of ads across Facebook, Twitter and the blogosphere. Ads older than 30-days are not included.
1. Rockstar "Grand Theft Auto V" created in-house
121,609 shares this week
All time: 508,697 shares
2. Honda "hands" by Wieden & Kennedy, London
50,721 shares this week
All time: 331,982 shares
3. Dove "camera shy" by Ogilvy & Mather London
41,519 shares this week
All time: 95,828 shares
4. O2 "be more dog" by VCCP
39,695 shares this week
All time: 111,972 shares
5. Razor "crazy cart" created in-house
36,185 shares this week
All time: 55,804 shares
6. Reprieve "force fed" by The Guardian
23,355 shares this week
All time: 149,171 shares
7. Samsung "the creative process" by Cheil UK
13,307 shares this week
All time: 28,932 shares
8. Johnnie Walker "Bruce Lee" by BBH China
10,338 shares this week
All time: 36,689 shares
9. Nokia "let the smartphone camera revolution begin" by Crispin Porter & Bogusky
10,021 shares this week
All time: 21,470 shares
10. Volcom "dusty payne" by In-house
8,989 shares this week
All time: 15,858 shares
AUTOFEEDCAMVIRAL