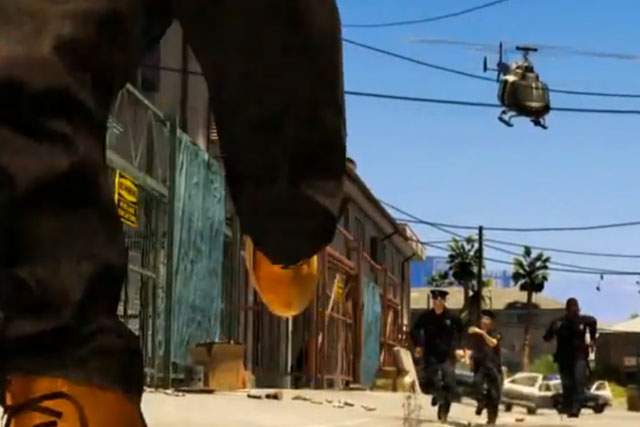 The trailer has been shared the most on Facebook (492,580 times) and has featured in more than 650 blog posts across the web.
Last week's most shared video, Microsoft's "productivity future vision", which was created in-house, fell to fourth in this week's chart, with 130,000 less shares in the past seven days.
GoPro's "the HD hero" lifted itself into second position from fourth with nearly 50,000 shares this week.
Dermablend's "go beyond the cover" viral, featuring Lady Gaga's friend – the tattooed Ricky Genest – held steady in third position, gaining 40,580 more shares this week and taking it to an all-time total of 443,044.
The chart, produced in conjunction with Unruly, ranks ads according to the number of times they have been shared on Facebook, Twitter and the blogosphere during the past seven days. Ads launched more than 30-days ago are not included.
1. Rockstar 'Grand Theft Auto V' by Rockstar
198,813 shares this week
All time: 507,775 shares

2. GoPro 'the HD hero' by Simply Zesty
44,931 shares this week
All time: 196,568 shares

3. Dermablend 'go beyond the cover' by Tuxedo
40,580 shares this week
All time: 443,044 shares

4. Microsoft 'productivity future vision' by Microsoft
38,172 shares this week
All time: 233,098 shares

5. New Zealand Transport Agency 'legend' by Clemenger BBDO
32,589 shares this week
All time: 188,124 shares

6. Activision 'Official Call of Duty: MW3 launch trailer' by Deutsch
27,885 shares this week
All time: 201,942 shares

7. Rip Curl 'the full experience' by Time-Slice Films
25,580 shares this week
All time: 27,139 shares

8. Electronic Arts 'Need For Speed: The Run' by Kirshenbaum Bond Senecal & Partners
21,888 shares this week
All time: 26,804 shares

9. Microsoft 'Kinnect effect' by Twofifteenmccann
16,826 shares this week
All time: 52,191 shares

10. Nike 'love the game' by Wieden & Kennedy New York
2,778 shares this week
All time: 64,121 shares