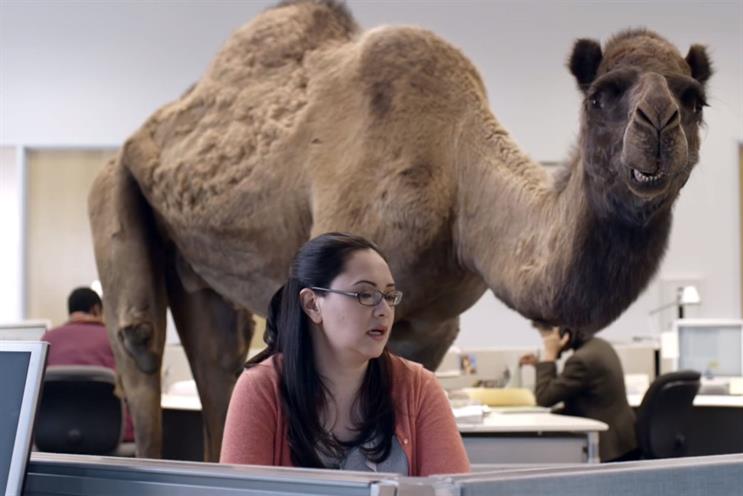 The ad, by The Martin Agency, compares the happiness gained from saving money with the insurance company, to the "hump day" feeling on a Wednesday as the weekend appears closer.
In second place, an ad for Cheerios by Saatchi New York was shared 124,647 times.
Running on from its 'Share A Coke' campaign, an ad from Coca-Cola, featuring Coke cans that split into two separate cans, has been shared 48,753 times to take third place. The ad was created by Ogilvy & Mather.
A second ad for Coca-Cola, a three-minute film attempting to unite the people of India and Pakistan through interactive vending machines, was shared 12,644 times.
The ad, created by Leo Burnett offices in Chicago and Sydney, shows members of the tense neighbouring nations complete tasks together through the camera-enabled interactive vending equipment.
Elsewhere in the chart, last week's most-shared ad from US convenience retailer, Kmart, has slumped into fifth position, shared just 21,405 times this week.
Further boosting the spirit of the chart, a musical short film from Samsung, by Leo Burnett USA, was eighth most-shared, with 12,329 shares across the blogosphere and the social web.
The chart, produced in conjunction with Unruly, ranks ads by the number of shares they generate across Facebook, Twitter and the blogosphere.
1. Geico "happier than a camel on Wednesday" by The Martin Agency
174,474 shares this week
All time: 276,825 shares
2. Cheerios "just checking" by Saatchi NY
124,647 shares this week
All time: 160,502 shares
3. Coca-Cola "sharing can" by Ogilvy & Mather
48,753 shares this week
All time: 67,817 shares
4. Swisscom "all eyes on the s4" by Heimat Berlin / Perfect Fools, Switzerland
40,601 shares this week
All time: 116,246 shares
5. Kmart "big gas savings" by draftfcb
21,405 shares this week
All time: 311,440 shares
6. Activision "
Call of Duty: Ghosts reveal trailer" by 72andSunny
18,563 shares this week
All time: 430,358 shares
7. Coca-Cola "small world machines" by Leo Burnett Chicago & Sydney
12,644 shares this week
All time: 209,442 shares
8. Samsung "hi hey hello" by Leo Burnett, USA
12,329 shares this week
All time: 52,421 shares
9. Microsoft "get to know Windows 8" by Crispin Porter & Bogusky
7,642 shares this week
All time: 32,801 shares
10. AT&T "it's not complicated" by BBDO
4,311 shares this week
All time: 33,070 shares
AUTOFEEDCAMVIRAL