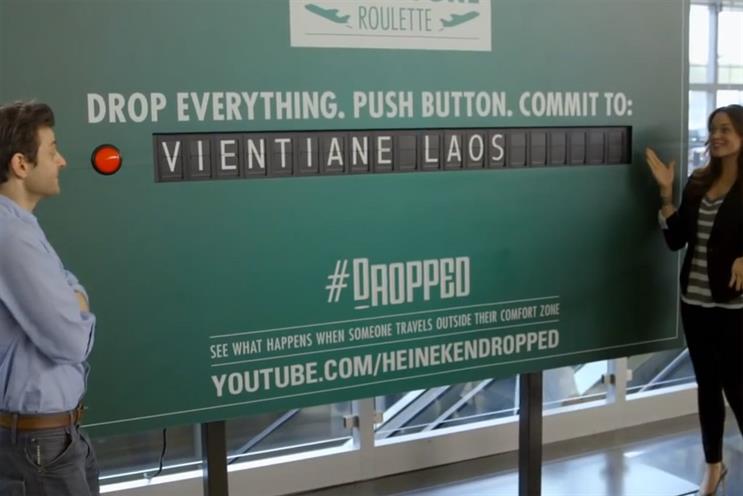 The beer ad, created by Wieden & Kennedy New York, has shot through the chart to first place, having been in seventh place last week with 6,163 shares.
The video, "departure lounge roulette", features Heineken representatives approaching airline travellers with the chance to change their intended destination with another mystery destination determined randomly by the brand's "drop everything" board.
Following the success of its "ship my pants" and "big gas savings" ads, Kmart re-enters the chart this week with two new ads by DraftFCB.
Both ads promote the US retailer's back-to-school range and have been shared a combined 18,987 times this week.
Google has also managed to secure two places in this week's chart with ads promoting its Chromecast dongle and Nexus products.
In fourth place, the ad for Chromecast showcases the USB device from Google that allows the streaming of content from tablet and mobile devices to TVs. 72andSunny created the ad.
The second ad from Google, in tenth place, shows Google's Nexus tablet device and promotes Google Now – an app that allows users to perform searches and functions using voice commands. Autofuss created the spot.
The Google ads were shared a combined 14,612 times in the past seven days.
The chart, produced using figures from Unruly, tracks the number of shares of ads across Facebook, Twitter and the blogosphere. Ads older than 30-days are not included.
1. Heineken "departure roulette" by Wieden & Kennedy, New York
14,191 shares this week
All time: 82,823 shares
2. Kmart "my limo" by DraftFCB
14,162 shares this week
All time: 19,035 shares
3. Nextel "nuevo comercial" by TeranTBWA
12,480 shares this week
All time: 14,841 shares
4. Google "for bigger fun" by 72andSunny
12,088 shares this week
All time: 27,581 shares
5. Rockstar "GTAV" created in-house
10,305 shares this week
All time: 546,384 shares
6. Windows "baseball" by Crispin Porter & Bogusky
10,174 shares this week
All time: 29,083 shares
7. Chevrolet "her horse" by Commonwealth
8,861 shares this week
All time: 23,511 shares
8. Kmart "yo mama" by DraftFCB
4,825 shares this week
All time: 56,149 shares
9. Coca-Cola "smile back" by Victors & Spoils
3,152 shares this week
All time: 36,424 shares
10. Google "fear less" by Autofuss
2,524 shares this week
All time: 9,954 shares
AUTOFEEDCAMVIRAL