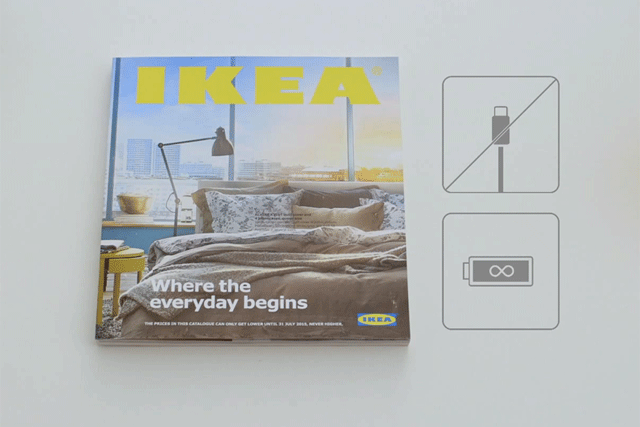 The ad, called "experience the power of a bookbook", by BBH Asia Pacific has been shared over 300,000 times, four times more than any other ad in the last week.
The two and half minute ad to promote the retailer's catalogue mocks the cult of Apple. It features a Swede talking about the Ikea catalogue's eternal battery life and original touch interface.

However, Apple itself features twice in this week's chart. The first spot promotes the free U2 album, available on iTunes, which was announced at the Apple iPhone 6 launch on Tuesday.
The second is an ad looking in detail at the new phone. Both were created by Apple's ad agency, TBWA\Media Arts Lab, USA.

An ad for clothing brand, Under Armour, featuring model Gisele Bundchen, by Droga5, New York, also features in the chart.
1. Ikea "experience the power of a bookbook" by BBH Asia Pacific
306,471 shares this week | 405,155 shares all-time
---
2. TAG Heuer "ronaldo and button don't crack under pressure !" by BBDO Beau
69,839 shares this week | 100,697 shares all-time
---
3. PlayStation "destiny - playstation exclusive content | ps4, ps3" by In house
68,910 shares this week | 144,581 shares all-time
---
4. Samsung "samsung galaxy note 4 – official introduction" by In house
58,555 shares this week | 79,574 shares all-time
---
5. Destiny "official destiny live action trailer – become legend" by 72andSunny
56,166 shares this week | 69,851 shares all-time
---
6. Apple "apple - echoes" by TBWA\Media Arts Lab, USA
49,173 shares this week | 49,173 shares all-time
---
7. Samsung "samsung gear s – official introduction" by In house
39,205 shares this week | 46,810 shares all-time
---
8. Apple "apple - introducing iphone 6 and iphone 6 plus" by TBWA\Media Arts Lab, USA
32,991 shares this week | 32,991 shares all-time
---
9. Under Armour "gisele bündchen - i will what i want" by Droga5, New York
19,524 shares this week | 33,717 shares all-time
---
10. Sony "xperia™ z3 series – introducing the best ever sony waterproof* smartphone and tablet technology" by In house
16,991 shares this week | 37,862 shares all-time
---