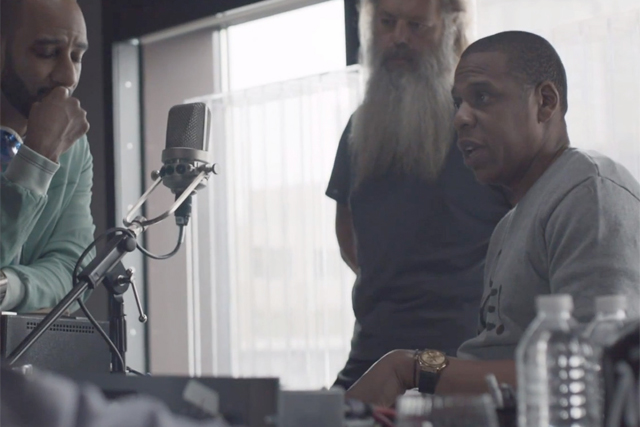 The ad by 72andSunny has been shared just short of 142,000 times and promotes the launch of Jay-Z's 'Magna Carta Holy Grail' app. The first million to download the app also received the album of the same name for free, from 4 July, three days before its general release.
After topping the chart last week, Red Bull's in-house ad starring stunt cyclist Danny MacAskill moves into second position with 53,000 shares.
Discovery Channel's "Snuffy the seal" work for the 'Shark Week' broadcasts, rose from last week's tenth position to third place. The ad, produced by the in-house team Discoverycreative, has been shared 41,000 times in the past seven days - up more than 30,000 shares week-on-week.
Also in the chart this week, Pepsi moves down one place with their ad featuring the magician Dynamo, by Arnold KLP, who this week announced their new creative chief. The Pepsi ad has been shared nearly 14,000 times this week, down from 17,000 the previous week.
The chart, produced in collaboration with Unruly, tracks the number of shares of ads across Facebook, Twitter and the blogosphere. Ads older than 30-days are not included.
1. Samsung "one to many" by 72andSunny
141,986 shares this week
All time: 201,648 shares
2. Red Bull "imaginate" by Red Bull Media House
53,018 shares this week
All time: 296,605 shares
3. Discovery Channel "Snuffy the seal" by Discoverycreative
41,076 shares this week
All time: 118,169 shares
4. NeverWet "hands-on product demonstration" created in-house
30,644 shares this week
All time: 144,899 shares
5. Adobe "photoshop live" by Abby Norm
14,171 shares this week
All time: 644,348 shares
6. Pepsi Max "bus levitation" by Arnold KLP
13,975 shares this week
All time: 41,087 shares
7. Samsung "looking 4 myself" by Huge
11,121 shares this week
All time: 66,824 shares
8. Columbia Records "get lucky remix video promo" by Daft Arts
10,424 shares this week
All time: 81,808 shares
9. Jaguar "c-x75 prototype" by Spark44
8,324 shares this week
All time: 31,997 shares
10. Microsoft "Windows 8.1 preview is here" by Crispin Porter & Bogusky
7,154 shares this week
All time: 29,396 shares
AUTOFEEDCAMVIRAL