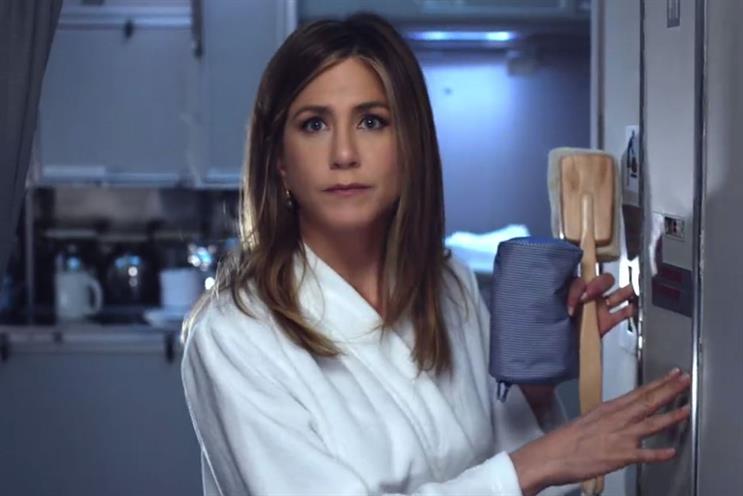 1. Emirates "wake up to flying as it should be" by Rainey Kelly Campbell Roalfe/Y&R
Jennifer Aniston fronts the new global TV campaign for Emirates, which shows the actress having a nightmare about being stuck on a plane with no shower or bar. It tops the chart with 75,847 shares this week.
2. H&M "H&M modern essentials selected by David Beckham featuring Kevin Hart" by Adam & Eve/DDB
H&M's short film starring David Beckham and Kevin Hart fell from number one to second place this week. The comedian stays in Beckham's house, follows him everywhere, and impersonates his accent. The spot was shared 39,399 times over the last seven days.
3. Angry Birds "the Shakira bird in #UpForSchool"
Pop star Shakira gets turned into an angry bird in this animation, which highlights that 59 million children are out of school around the world and urges people to sign a petition to curb the problem. It received 21,634 shares this week.
4. Pokémon Go "discover Pokémon in the real world with Pokémon Go!"
This video introduces fans to the Pokémon game on iPhone and Android devices. Rising from fifth place last week, it has been shared 17,518 times.
5. HBO "Vinyl: Trailer"
The cable TV network promotes Vinyl, a new drama series from Martin Scorsese, Mick Jagger and Terence Winter, which debuts in January. The trailer received 17,298 shares this week.
6. H&M "H&M modern essentials #selectedbyBeckham with David Beckham and Kevin Hart" by Adam & Eve/DDB
In this behind the scenes spot of the clothing brand's popular ad, Kevin Hart gives a humorous take on David Beckham's world. It was shared 17,156 times.
7. Pepsi "the future is now" by Davie Brown Entertainment
Coming in seventh place with 16,407 shares, Pepsi has created its futuristic Pepsi Perfect from the 1989 film Back to the Future.
8. Tom Ford "Tom Ford womenswear SS16"
American fashion designer and film director Tom Ford debuted his Spring/Summer 2016 womenswear collection in an online video, which was shared 16,120 times over the past week.
9. Xbox UK "Halo 5: A hero falls"
The TV commercial promoting Xbox's game garnered 14,744 shares this week.
10. Carl's Jr. "Tex-Mex Bacon Thickburger 'Borderball'" by 72andSunny
The ad promoting a new menu item available at Carl's Jr. and Hardee's shows bikini-clad women playing beach volleyball, pouring water on themselves, and biting into the burger. It was shared 14,348 times this week and has more than one million views on YouTube.
The chart has been compiled by Unruly.