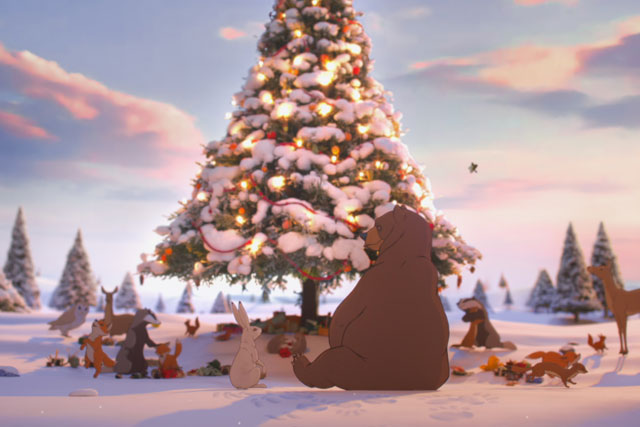 The ad, created by Adam & Eve/DDB and shared 658,098 times this week, is a two-minute animated tale about a bear that has never seen Christmas.
The ad was created using stop-motion techniques on a 3D set. It has received mixed (although largely positive) responses online with sentiment falling from over 96 per cent positive and neutral in previous years to around 84 per cent this year.
In second place, an ad for Ken Bloch's Gymkhana videogame series has entered the viral chart with 547,416 shares.
The ad joins three other ads for previous instalments in the series, all of which are in the top 20 all time most-shared rankings, according to data from Unruly.
Elsewhere, a Google ad from Ogilvy India takes third place. Shared 446,305 times in the past seven days, the three-and-a-half-minute video follows the tale of a granddaughter using Google products to re-unite her grandfather with a childhood friend.
Virgin Atlantic and Comedy Central continue in the chart for another week, while Sony's PlayStation 4 also remains, but with a new ad.
The PlayStation video, created in-house, reproduces the concept of "unboxing videos", which is popular on YouTube. It features people taking products out of boxes. The video has generated 68,020 shares for the new console that is due to be released in time for Christmas.
The chart, collated and ranked by Unruly, ranks ads on YouTube by the number of shares across Facebook, Twitter and the blogosphere. Ads older than 30 days are not included.
1. John Lewis "the bear & the hare" by Adam & Eve/DDB
658,098 shares this week
All time: 668,599 shares
2. EA "need for speed" created in-house
547,416 shares this week
All time: 552,149 shares
3. Google "reunion" by Ogilvy India
446,305 shares this week
All time: 467,474 shares
4. Degage Ministries "homeless veteran timelapse transformation" by Rob Bliss Creative
221,238 shares this week
All time: 240,916 shares
5. Samsung "Messi joins as captain of #galaxy11" by R/GA and Cheil Worldwide
86,744 shares this week
All time: 92,484 shares
6. Sony "PS4 unboxing video" created in-house
68,020 shares this week
All time: 70,805 shares
7. Comedy Central "who's better: Thor or Loki?" created in-house
50,599 shares this week
All time: 169,417 shares
8. Virgin Atlantic "safety video #vxsafetydance" by Wieden & Kennedy New York
46,317 shares this week
All time: 464,755 shares
9. Adidas "samba collection" by United State of Fans\TBWA
24,834 shares this week
All time: 64,171 shares
10. Red Bull "straight rhythm" created in-house
17,623 shares this week
All time: 69,918 shares
AUTOFEEDCAMVIRAL