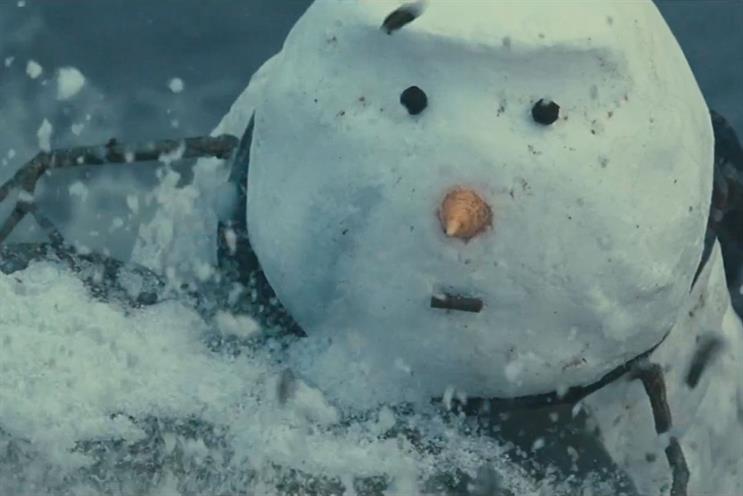 The ad, created by agency Synn Labs, has been viewed 5.7 million times and follows a string of recent viral successes for the brand, including its 'human-powered free running machine' video and Felix Baumgartner's jump from the edge of space.
Meanwhile, this year's Christmas ad for John Lewis, the UK-only retailer, was shared 184,065 times in its launch week.
The ad, created by the retailer's long-time Christmas magic-maker Adam & Eve/DDB, has been viewed more than 1.5 million times and has over 1,300 comments on YouTube.
In second place this week, a video of recently re-elected President Obama has been shared 259,754 times.
The ad, in which an emotional Obama thanks his campaign team and volunteers, has been used in 460 blog posts and is mentioned in 21,000 tweets.
To view the most-shared viral ads from previous weeks, visit the Brand Republic viral video board on Pinterest.
The chart, produced in conjunction with Unruly, ranks ads according to the number of times they have been shared on Facebook, Twitter and the blogosphere.
Ads launched more than 30-days ago are not included.
1. Red Bull 'the athlete machine' by Syyn Labs
549,161 shares this week
All time: 571,909 shares
2. Obama/Biden 'I'm really proud' by Obama For America
259,754 shares this week
All time: 383,877 shares
3. John Lewis 'the journey' by Adam & Eve/DDB, London
184,065 shares this week
All time: 192,180 shares
4. Louis Vuitton 'l'invitation au voyage' by Inez & Vinoodh
82,890 shares this week
All time: 84,966 shares
5. Air New Zeland 'an unexpected briefing' created in-house
56,471 shares this week
All time: 728,717 shares
6. Activision 'surprise' by 72andSunny
49,948 shares this week
All time: 505,614 shares
7. Angry Birds 'Star Wars' created in-house
49,094 shares this week
All time: 67,876 shares
8. Rockstar Games 'Grand Theft Auto V' created in-house
40,659 shares this week
All time: 47,205 shares
9. Sony 'DSLR gear no idea' by Havas Worldwide, Sydney
33,162 shares this week
All time: 41,358 shares
10. eBay 'pony' by Venables Bell & Partners, USA
19,522 shares this week
All time: 39,523 shares
Follow @thebenha